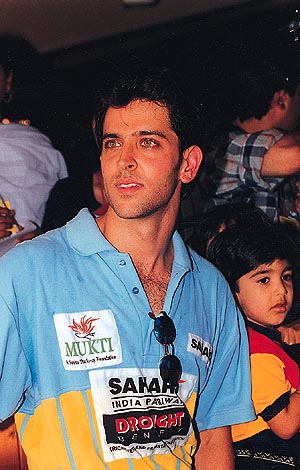 I only wonder what ignominy his (much senior) colleagues must've gone through. For, after all, Hrithik's team included Akshay Kumar, Govinda, Anil Kapoor, Ashutosh Rana, Anupam Kher, Aditya Panscholi, Arshad Warsi and even Sanjay Dutt!!!
But Hrithik's 'roshni' outshone all — even heppy, peppy performers like, Remo Fernandes, Sunita Rao, Sapna Mukherjee and Tabu!
Aamir sings again
The current generation of stars, it appears, is not merely satisfied with acting in motion pictures. These young and not-so-young artistes evidently want to try their hands (and throats) at whatever they can... whether it suits 'em or not.
And so, Aamir Khan is singing again. Reportedly, not a talking 'tapori' song as in Ghulaam ("Kya Bolti Tu") but a proper festive number. Because, for a period movie like Lagaan, there just ain't no way that he can take libertise with, okay? What's more, having been penned by Javed Akhtar and tuned by A.R. Rahman, Aamir will have to follow the discipline of the lyrics and melody.
Hema has her way
The "dream girl" of yesteryears, Hema Malini, is well-known as a woman of substance. Allow me to add here that she can also be very strict and stubborn when she's opposed or has somebody interfering with her personal plans!
Which is the reason that even an A-grade filmmaker like Boney Kapoor has had to kowtow to Ms Malini! He has agreed not to release his Esha Deol-Aftaab Shivdasani film before the Esha-Hrithik Roshan movie Naa Tum Jaano Naa Hum. Since Hema was forever fiercely forceful that her darling daughter's debut on screen must be "With a top hero".
Grandma & daughters
I can't believe it, but I'm told it's true: That the legendary Suchitra Sen has agreed to work in a Hindi film after all these years... for the sake of her grand daughter, Raima! The two Bengali beauts will be seen together in Rituparno Ghosh's new film based on a Rabindranath Tagore classic Chokher Bali.
Apparently, the film will be a bilingual. However, going by reports from Calcutta, Ghosh will originally shoot in Hindi and later have the artistes dub in Bengali! Meanwhile, the hunt for an appropriate Hindi title for the movie is on.......
(I'm also told that the role Raima will be playing, has always been the 'dream role' her mum, Moon Moon Sen, so eagerly wanted to do all these years!!!)
Exiled emperor
Deposed emperor in exile, Shah Rukh Khan, is busy sulking these days. So much so that he can't even see the silver lining in the dark clouds! Imagine, he has signed Santosh Sivan's prestigious period picture, Samraat Ashoka, his first ever film with David Dhawan (co-starring Hrithik Roshan, oops!), Subhash Ghai's Yaadein... and Mani Rathnam is repeating him (despite Dil Se) and more, but The 'Shah' continues to hit the rock bottom of depression. Is he going, going...gone???