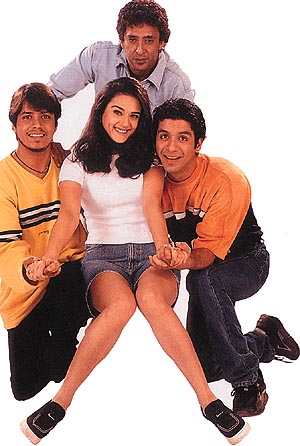 No taking off to foreign lands to make the plot even slightly unreal. The characters are well-rounded and the settings believable. One is convinced because there are thousands of towns like Solan in India and thousands of youngsters facing similar dilemmas and delights.
Kya Kehna is reminiscent of the social films of the 40s, 50s and 60s, which held up a mirror to society, forced it to look at its blemishes and gave workable solutions. Films made under the films like Bhabhi, Do Aankhen Baara Haath, Achut Kanya etc., the sensitive, beautiful films by Bimal Roy, (who can forget Nutan's unbelievably moving performance in Bandini?) BR Chopra's Dhool Ka Phool, Sadhna and Ek Hi Raasta are movies that remain landmarks in the history of cinema principally because these movies had something to say and they said it with conviction, without fuss or embellishment.
Kya Kehna looks at the issue of pre-marital sex among teens rationally and without moral posturing. It simply portrays the plight of a girl who has a pre-marital affair and gets pregnant. Priya (Preity Zinta) is a pretty young thing, just out of school and into the freedom of college life. Since she has been something of a role model in school, so she believes that she knows it all. In fact, she's highly sheltered, coming as she does straight from the hostel, petted and cocooned by a loving family, surrounded by friends, particular among these being Ajay (Chandrachud Singh) who loves her faithfully. In college she meets Rahul (Saif Ali Khan), a rich, spoilt brat who canít stick to a steady relationship. Since he has it all,he gets his kicks out of flirting and performing dangerous stunts.
Time and again, Priya is warned against Rahul, but his smouldering, dangerous appeal combined with the supreme confidence of youth that "this cant happen to me", lead to deep infatuation and ultimately the sexual act. Today there are thousands of youngsters in a similar situation, allowed as they are to intermingle freely. They are bombarded with images of sexual licence by the media. Sociological studies have, in fact, revealed an alarming increase in pre-marital sex among the teens and rising instances of abortion.
Rahul's refusal to a long term commitment is believable in the present social setup. It is easy for him to say " I'm not interested" as this is but a reflection of the age of instant gratification where, dichotomically, class- consciousness still retains a vice-like hold. Priya's subsequent pregnancy comes as a horrid shock to the family. The worst hit being the father (Anupam Kher) who feels the greatest sense of betrayal. Among the three alternative solutions to the problem discussed now are, marriage to the baby's father, abortion or giving birth to the child, thus being an unwed mother. Priya chooses the third option, thus inviting the ire of her family and society .
At this juncture, Kundan Shah focuses on the systems of support that the family can provide. After just one night of anger, she's accepted back into the fold and given love and support at every step by her parents and brothers. The movie thus dwells upon the importance of a well-rooted, loving and understanding family. A family, the members of which can interact and communicate with each other and where the members have a sympathetic understanding of one another, has the capacity to take back an errant member into it's fold and face the consequences.
Yet another issue that the film addresses is the reason for the choice of a spouse. Ultimately, Priya is faced with the choice between Rahul, the man she loved passionately and who is also the father of her child and Ajay who has stood by her through thick and thin, a dear friend she deeply respects but who is not the father of her baby. Kundan Shah thus re-assesses morality when he weighs kindness against cruelty, the freedom to practice what one believes is good and right against hypocrisy, acceptance of others' follies against moral repudiation.
The movie itself has several flaws but the issues that it tackles are real. The director takes a straight, hard look at the problems of today and holds them up for exhibition. The Indian tendency is to sweep uncomfortable issues under the carpet but if films like Kya Kehna continue to be made, at least, we'll be forced to confront them.