Ruled by stars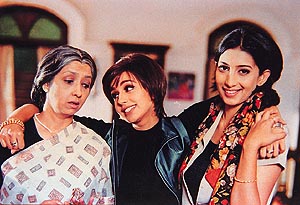 Is astrology bunkum or is there a hidden truth in it? Aatish screened every Thursday 10 p.m. on Star Plus probes the issue and comes up with some very predictable answers.
It's the story of a powerful matriarch, Kaveri, head of a large conglomerate. She is overjoyed when her twin grand-daughters are born. What follows though is not so joyous. An astrologer warns them that the older twin would spell doom for the entire family.
A day after the prophesy, Kaveri's son and daughter-in-law are killed in an accident, leaving her with the orphaned grand-daughters and a sense of foreboding.
Years later, as prophesied, the younger twin, Saavri grows to be a loving person while Anita is spoilt and demanding. Saavri escapes death several times and the grandmother, suspecting Anita of evil designs, throws her out of the family house.
What happens to both the girls in their quest for individual happiness? What role will the grandmother play in guiding their destines? Find out for yourself in Aatish.
Dance baby, dance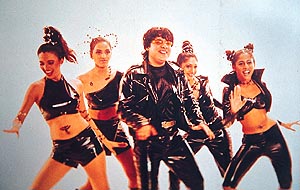 If imitation is a form of flattery, then Sony Entertainment Television should be happy. It's dance show. Boogie Woogie Show now has a rival in Zee's Foot Loose every Wednesday at 7.30 p.m.
What can one say about such shows which have as little to offer as Bollywood style of dancing? Very little. They only reflect a complete lack of creative ideas.
Since there is already a similar programme on Sony, Zee claims to have made Foot Loose radically different in style and form. And one of the ''radical'' differences is making contestants go through a competition and testing their potential as dancers.
Says a spokesperson, ''The idea is to provide a show which absorbs the viewer on the basis of quality of dancing and overall entertainment.''
If that's your idea of entertainment, go right ahead and shake a leg or two!
Where's the humour?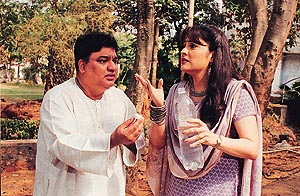 It's been around for months yet this episodic comedy has largely gone unnoticed. Perhaps it has got something to do with the humour not keeping pace with the script.
Zara Hatke, Zara bachke, aired on Wednesdays at 8 p.m. on Star Plus revolves around the life, times and incidents of two brothers — one married with two kids, the other, a bachelor, still in college.
Elder brother Prithvi is a businessman happily wedded to Mishka. They have two children — Shweta who is a serious young lady and son Anil, who, like his chacha, never takes life seriously.
Each member of the family is different and it's action time when all of them get together. And most of the awkward situations are deftly handled by Mishka.
So far so good. But what Zara Hatke, Zara Bachke lacks is a sense of comic timing and a crisp script. Lead star Harish Patel lacks the funny bone while others flit in and out, oblivious that comedy requires more than a mere presence.
Family portrait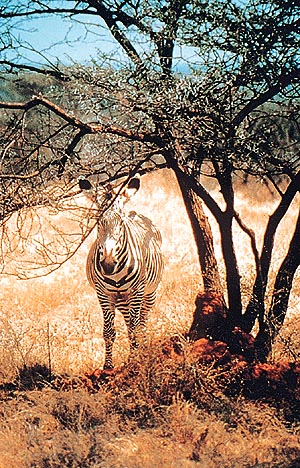 This June, travel from Tanzania to Kenya for a special look at the family lives of hyena, zebra and lion in Families In The Wild starting June 18 at 8 p.m. on the National Geographic channel. Learn how these families take care of their young and interact in complex social systems.
The programme uncovers specific details about these animals by becoming part of their family. Highly engaging in its profile of their daily life, it shows their rituals and emotions, as well as the dangers that lurk in the untamed wild.
All of these animals live in a meticulously organised social structures with their own rules, laws and hierarchy; each member possesses its own specific role within the group much like humans. A fascinating aspect of animal life of which we know so little about.
— Mukesh Khosla