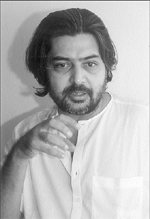 Director, actor, film maker
"WITH more than 17 years of theatre behind me, I now combine the related avatars of director, actor and film maker". That is Vikram Kapadia, a multi-media personality who was in the town recently conducting a summer workshop in theatre acting for children at the Strawberry Fields School.
Having graduated from Actor's Studio, Bombay, headed by Roshan Taneja, former Principal of FTII, Pune, Vikram enterprisingly rose in his careergraph through conducting workshop with famous international theatre experts like Peter Brook (of "Mahabharat-the Play" fame), Maria Irena Fornes, Steven Berkoff as well as Indian stalwarts such as Habib Tanvir, Naseeruddin Shah, Pearl Padamsee, Pt. Satyadev Dubey and N. Muthuswamy.
In order to comprehend and interpret an intense medium like theatre, Vikram suitably equipped himself by educating in western classical ballet and ballroom dance under the expertise of Tushna Dallas (RAD, London). Not only this, he also trained himself in tap-dancing under the celebrated film choreographer Oscar Unger. Vikram's drive for jazz was encouraged by his trainer Farida Pedder. Among his notable stage performances are the following productions: "The Good Doctor" (1984); "As You Love It" (1987); "The Measure Taken" (1988); and "Caine Mutiny Court Martial" (1993).
The year 1987 was significant for Vikram as he launched his own theatre group with an assortment of like-minded professionals called "Masque". It also marked his directorial debut with Luigi Pirandello's "Six Characters in Search on an Author". In a span of 13 years, Vikram has to his credit an impressive folio of well-known directorial productions. To name just a few, Ken Jenkin's "Rupert's Birthday" (1990), William Shakespeare's "Julius Caesar" (1922) and "Romeo and Juliet" (1955) and Makrand Deshpande's "Musk Maiden" (1999) which got premiered at the Prithvi festival last year.
In the recent past, this free-spirited artiste has also given the medium of television a glimpse of his bearded self in prominent serials like "A Mouthful of Sky", "Banegi Apni Baat", "Rishtey", "Saturday Suspense" and "Just Mohabbat".
While in Chandigarh, Vikram shared his views and apprehensions on the contemporary scenario of theatre in India. "It is very young in terms of its evolutionary age and quite semi-professional in its approach. Consists broadly of a mix 'n' match of seasoned and amateur actors. However, it lacks a sense of quest and has stagnated at the level of block-based drama. Basically, the understanding about theatre as a medium of art is rather sad in our country". Not an encouraging situation, according to Vikram.
Regarding his experience with children during the workshop, the 'bindaas Mumbiya' observes: "The thought of doing a kids' workshop in itself was nostalgic since over the years I have directed numerous plays with school and college kids. But, I must confess that children here are lacking completely in any kind of theatre exposure. They are otherwise terribly smitten by TV and film entertainment like children elsewhere. They possess the potential to do theatre, but require training in this regard which is only possible if the medium by and large is recognised in a slightly more serious a manner than as merely doing 'nautanki'!"
And were there any hurdles while handling these tiny talents?
"Well, language barrier did pose a problem initially since spoken English with many is definitely an efforted exercise. But once they were told to use Hindi or Punjabi and leave English out, they opened up totally and enjoying doing whatever it was that they fancied expressing dramatically. Also, I felt the need to work on their pronunciation, which was strangely not so correct considering that they came from highly educated and affluent backgrounds. Any sort of theatre exercise with kids is an experience in itself. For examples, while making them improve their speech, introducing them to mime and movements of space, the feedback one gets is absolutely amazing. Their flights of imagination run with such innocent enthusiasm that the entire labour of familiarising them with dramatics appears to be nothing less than a pure delight", elaborates Vikram.
As a result of the fortnightly exercise, the participants of the workshop put up a brief production, "The Highway Man," on the sprawling lawns of the school. Besides, the kids, satisfaction of having performed, it made their parents feel proud of having a theatre sensitive ward. The laurels for which must be duly conferred on Vikram, the "pied-piper" of the show.
So, what is in the offing for this theatrewallah?
"Well, I have three productions lined up already, 'The Lord of the Flies' being the first of these. And as I simply love the city of Chandigarh with its architectural gems of the Secretarial Complex, Nek Chand's Rock Garden, who knows, "Masque" might plan one of its future ventures here, he replies.
Insha Allah! To play host to a Vikram production would not only be a theatre bonanza, but a unique experience for all drama enthusiasts.