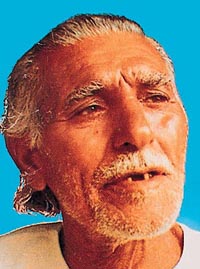 During an interview, he said his parents had originally named him Ghulam Muhammad. Once when he fell ill, someone said that the name was too heavy for the child and he should be given some lighter name. He was, thus, named Pathana Khan. He was admitted to school in 1932 and passed six classes. He got married at a time when Hindus still lived in the region, i.e., before 1947. He fathered eleven children — seven sons and four daughters.
Pathana Khan's family had no tradition of singing as he belonged to potters' caste. He trained for five or six years, under Ustad Nazar Hussain, the famous vocalist of the Patiala gharana. Then he spent some years in Panjab University to learn the Punjabi language from Nazaf Shah.
Once when he was singing at Multan during the celebrations of Jashan-i Farid, he caught attention of some people working with Radio Multan. The first composition he sang for the radio was Maida ishq vi tu, maida yar vi tu (My love is thou, my friend is thou), a kafi of Khwaja Ghulam Farid. Sung in the raga Kalyan, his rendering moved the listeners. Hereafter, he never looked back. Even during the last years of his life when he had no teeth, his singing left the audience spellbound. At almost every programme, he was requested to sing his masterpiece maida ishq vi tu.
All his life, he sung only the classic poetry of the sufis like Khwaja Ghulam Farid, Shah Hussain, Bulle Shah and Sultan Bahu. Once he gave the reason for this:" This poetry has the secret of love, it is natural poetry that descended from the unknown; it has simplicity, reality, and love; it is the very embodiment of humanity. I am in love with sufi poetry; it has a soothing effect; it gives peace of mind."
Pakistan has a long established tradition of singing sufi poetry. Almost every singer there has rendered one or the other kafi. But when one listens to Pathana Khan's rendition of Shah Hussain's kafi. Mai ni kehnu akkan dard vichode da hal, one feels as if Shah Hussain himself is singing.