Tuesday, June 20, 2000,
Chandigarh, India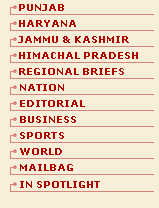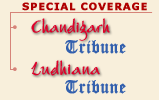 M A I N N E W S
HP to insure poor women
Tribune News Service
SHIMLA, June 19 — The State Cabinet today introduced an insurance scheme for covering 5.72 lakh women of the age group of 10 to 75 living below poverty line in Himachal Pradesh.
The decision to introduce the scheme was taken at a meeting of the Cabinet held under the chairmanship of the Chief Minister, Mr P.K. Dhumal.
A total number of 5,72,894 women of the 2,86,447 identified families living below poverty line will be benefited by the scheme, which has been named as "Matri Shakti Bima Yojna" and which will cover risks like death, disablement of women and death of husband.
The scheme will involve a financial implication of Rs 48,69,599 towards premium of insurance, which will be paid by the state government.
The insurance will cover a risk of Rs 25,000 towards death, permanent disablement and loss of limbs and also for death of husband of the insured. A sum of Rs 12,500 will be paid in case of loss of one limb.
The Cabinet also decided to re-constitute development blocks in 10 districts of the state (excluding the tribal areas) and make them co-terminus with Assembly constituencies as a follow-up of the budget assurance of the Chief Minister.
As a consequence of the reorganisation, nine new development blocks and 11 sub-blocks will be created. The nine new development blocks are, Kot Kehloor at Swarghat, Doon at Ramsehar, Santokhgarh at Haroli, Bamsan at Tauni Devi, Balh at Dadour, Nachan at Chail Chowk, Sulah at Daroh, Dharamsala at Dharamsala and Jaswan whose headquarters will be decided later. The sub-blocks are, Nirmand, Bhuntar, Bali Chowki, Rajgarh, Mehla-1 (for non-tribal panchayats of the Bharmour constituency), Mehla-II (for 8 panchayats of the Bhatiyat constituency), Sarol, Banikhet, Kawar for three panchayats of the Dodra Kawar area, Basantpur and Jaswan.
As a result the block headquarters & at Sujanpur, Solan, Rewalsar, Gohar, Rajgarh, Mehla, Naggar, Nirmand, Basantpur and Chirgaon will be closed.
The sub-blocks would be competent to sign agreements for execution of works, release of payments for sanctioned works, receive correspondence and applications.
The officials in charge of the block would function under the overall control of the Block Development Officer concerned. Panchayat samitis would also be reconstituted in accordance with new development blocks and elections to panchayats which are due this year would be held in accordance with the reconstituted panchayat samitis. In order to ensure that no panchyat falls in more than one development block, such panchayats would also be reconstituted. With this decision, now, there would be 71 development blocks and 11 sub-blocks.