Wednesday, June 21, 2000,
Chandigarh, India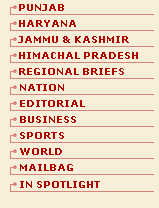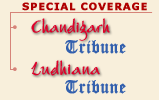 M A I N N E W S
Duo poisons 6 to death
From Varinder Singh
Tribune News Service
JALANDHAR, June 20 — Irked over being pulled up for stealing milk, two Nepali farm labourers poisoned a group of Punjabi labourers working in a sunflower field in Raiwal village, resulting in the death of six of them while 13 of them suffered severe food poisoning.
All of them, including the two Nepali labourers, had been working for the past one-and-half year in a 24 acre sunflower field near Nakodar, owned by Mr Hardev Singh, alias Laddi, a close relative of former Rajasthan Governor late Darbara Singh. All of them had been putting up in a small room set-up in the field itself.
The dead have been identified as — Amarjit, Kaka, Kuldip, Binda — all residents of Talwandi Butian village, Sony of Lasoori village and Deepa of Ferozepore City. After consuming food, prepared at a common kitchen four of them died immediately while the others were taken to Civil Hospital, Nakodar, from where they were referred to Civil Hospital, Jalandhar.
Binda was first to die after he rushed out of the room complaining of severe pain in the abdomen. The remaining died on way to the hospital. Thirteen persons, who were taken to the local Civil Hospital, were stated to be out of danger.
Utter confusion prevailed among villagers and police officials till the Nepali labourers were arrested today after some of the surviving labourers regained consciousness and suspected the involvement of the two in the ghastly incident. The SSP, Mr Gaurav Yadav, said the interrogation of the two Nepali labourers, Bhag Narayan, originally hailing from Sonar village in Sitamarhi district of Bihar, and Surinder of Balra Sirlahi village in Kathmandu, revealed that they added pesticides to the food consumed by their Punjabi companions. Though the stealing of milk and objection to it by most of the labourers was said to be cause behind the provocation for the two Napalis, investigation by TNS revealed that they had a grudge against their Punjabi counterparts for the two were allegedly abused and thrashed by them over trivial matters, which they could not tolerate. The simmering tension culminated after yesterday's incident after which the two decided to kill others. They did this by mixing three types pesticides, including strychnine, available in the room for its use in cultivation, in the food cooked by them. The two however abstained from the food, said Mr Yadav.
Mr Paramjit, a labour contractor, said winnowing of sunflower crops was almost over and only a day's work was left. All workers were in their early twenties, he added.
Meanwhile, the police has registered a case under Sections 302/308/328, 307 and 34 of the IPC and taken samples of food.