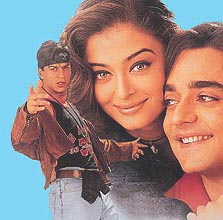 During the 60s and 70s, film- makers like Nasir Hussain skilfully exploited the ecstasy and joy associated with such plot structures in films like Teesri Manzil, Yaadon Ki Barat, Caravan and Hum Kisi Se Kam Nahin. The travails and triumphs of the comic hero wooing his lady love in the backdrop of the gigantic dance floors and scenic locales gave shape to a genre that attracted one and all. Besides, a scintillating musical score by R.D. Burman that infused western pop into Indian melody ensured that the cash register kept firing film after film. But the musical aura began to fade out in the 80s in films like Manzil Manzil; Zabardast and Zamane Ko Dikhana Hai. Perhaps the emphasis in the 90s shifted more towards sound story boarding, deeper characterisation , designer glitz and music that was not high pitched but sweet, malleable and sensual in beat.

The emerging contest encouraged filmmakers like Mansoor Khan (Nasir Hussain's son) to rewrite the parameters of the romantic liet motif and thus breath cinematic freshness into his father's film style. Mansoor's very first film Qayamat Se Qayamat Tak made a mark at the box office. In terms of its story, it was the umpteenth rendition of a cold war between two aggressive Thakur families that engulfs young lovers Raj (Aamir Khan) and Rashmi (Juhi Chawla). But Qayamat Se Qayamat Tak scored simply because of its freshness in treatment.

The traditional feudal relationship between the father and the daughter where fear, reserve and distancing were the defining characteristics was contrasted with the unusual bond between Raj and his father. The essence of this poured out through the popular number Papa Kahte Hain. Here for the first time there was a camaraderie between father and son, instead of the traditional hierarchy that usually colours such relationships on screen. Besides, Aamir and Juhi's down to earth histrionics in an otherwise foregone and predictable story added that extra bit to the visual quality of images in Qayamat Se Qayamat Tak. Their romance too projected a refreshing modernity that blended quite harmoniously with their traditional familial backgrounds on screen.

It was a similar indentification in Mansoor's second film Jo Jeeta Wohi Sikandar. The naughty batch of school kids who chewed gum, romped in shorts, bunked school and dreamt of beautiful women never really lost their middle class values and traditional ethos. Thematically, however, Jo Jeeta Wohi Sikandar was another simple love story retold with a shifting focus. Interestingly, here the tender bond between Aamir Khan and Ayesha Jhulka was less. Important than the relationship that Aamir shared with his family — his derisive father, and the over protective brother, both of whom tolerate Aamir's humorous antics endlessly.

In fact, Jo Jeeta Wohi Sikandar was a film more about attitudes than relationships. Ostensibly, it travelled through the entire filmic space and time where habitual lovers were transformed into winners. The superbly edited climatic cycle race where the traditional winners are displaced and the victory falls on the frail shoulders of Sanjay (Aamir Khan), the irresponsible, fun-loving guy, totally lays bare the anatomy of victory. In terms of film style, Mansoor's filming of the entire song Pehla Nasha in slow motion creates a magical effect that is enchanting in its novelness. And this is not to belittle his skills to weave a pace in the film by a montage that engages the viewers excitedly as it progresses towards its logical climax.

Returning once again to the fold of relationships in his third film Akele Hum Akele Tum, Mansoor explores the vicissitudes of marital discord. A hybrid version of the Hollywood film Kramer v/s Kramer, the film was perhaps the first serious attempt in mainstream cinema to look at a woman as a thinking and feeling, individual who craves for something more than rolling the dough. Amidst the backdrop of marriage, parenthood and discord, Kiran (Manisha Koirala's) searches for her own destiny, tenderly raising the banner of gender equality and silently crying out against an insensate spouse. This sub-plot is beautifully contrasted with the metamorphosing of Rohit (Aamir Khan) into a caring father who is even willing to sell off his prized possessions — musical instruments — to retain his son.

In the ultimate analysis of Mansoor's filmic ideology, in Akele Hum Akele Tum the career woman must one day return to the predetermined slot laid down by patriarchial society. The melodrama in the film convincingly fathoms emotional depth, at times to bring a lump to the throat. On the other hand, the backdrop of the music world wonderfully brings respite with melodious scores like Tu Meri Jaan.

In terms of consistency in style, in all the three films innocence is the hallmark of Mansoor's characters. Juhi Chawla in Qayamat Se Qayamat Tak with her tight plaits, red ribbons and her archaic style of speaking in the royal tense epitomises tradition infused with a free spirited attitude. Ayesha Jhulka in Jo Jeeta Wohi Sikandar again with strong middle class moorings brings to life, the homely, ever-carring, comforting and faithful girl who stands in stark contrast to Pooja Bedi, the snooty Miss with an accentuated sensuality. In Raj, Sanjay and Rohit, we find heroes who are simpletons and believe in no strong-arm tactics, or setting the world in order but perhaps making just a simple plea for love, camaraderie and togetherness.

The same quality of characterisation can be unearthed in his latest venture Josh. Amidst the backdrop of real estate deals in Vasco town in Goa and do or die enmity between rival gangs of strayed youngsters, Rahul (Chandrachud Singh) and Shirley (Asihwariya Rai) bring home the aura of innocent romance. Even the violent streak in the personas of Max (Shah Rukh Khan) and Prakash (Sharad Kapoor) evident in their confrontation sequences is grounded in traditional familial bonding that brings a certain simplicity to their motivation. Thus more than the depiction of enmity between rival gangs that devours a large chunk of film time, it is the humane chemistry of interaction between Rahul, Shirley, Marx and Prakash the forms the core of an engrossing drama on screen.

To cinematically supplement this determination to recreate the lost world of innocence, Mansoor, incorporates in Josh a musical score that matches the central sentiments of the film perfectly. Hai Mera dil is reminiscent of the soothing magic of most songs in Qayamat Se Qayamat Tak, Jo Jeeta Wohi Sikandar and Akele Hum Akele Tum. While Hum Bhi Hain Josh Mein and Apun Bola are crafted as "attitude songs" wherein voice and instrumentation blend to imbue the situation as well as lyrics with an earthy resonance in tune with the characters' motivation.

As compared to his earlier three films, in Josh Mansoor takes a big leap forward technically. His penchant for apt framing, expressionist camera movement and equilibrium in shot composition is distinctly visible in the junkyard chase sequence followed by the hand to hand fist dual in the backdrop of an abandoned Greek open air theatre like decor. With enhanced use of the close up shot, Mansoor captures in minutest detail, the cinematic space of the artistically created town of Vasco as well as tne facial anatomy of Shah Rukh and Aishwarya. Besides, the slow motion movement in almost all songs sequences in the style of Pehla Nasha , perfectly expresses his skill to portray a lyrical and dreamy delight of the romantic aura to the viewers.

Creativity in Bollywood is known to be cycled and recycled in the manner of a conveyor belt, wherein aesthetic impulses are marred by concerns of commerce. In the midst of such environs in Mansoor Khan's cinema one can decipher a 'visual rhythm' achieved as a matter of sensibility, fair and skill for treating a screen story through deep character delineation. Spread over four films now, the popularity of his film style is also due to the fresh, youthful and upbeat look of his films despite the tenor of themes that depicts a traditional ethos and yet may have been inspired from Hollywood hits. Nevertheless, the collage of images that he artistically churns, leaves an everlasting impression on one's mind.