A pity that this inexpensive 'third theatre, which had taken the Indian theatre by storm in the 70s, is only a half-forgotten relic today.

Equally lamentable is the fact that because of the allergy to the West, we rejected even Parsi theatre. As Nadira Babbar's excellent production of Yahudi Ki Ladki underlined, it could bring together the East and the West. The way Nadira made broad gestures, exaggerative movements and poetic style of delivery go in tandem with 'imaginative' realism and create a kind of total theatre was breath-taking, indeed. Another instance of perfect synthesis of folk form and modernism was afforded by the plays of Habib Tanveer." the smells and tastes of food, an evocative medium of the thoughts and feelings, there were those who found in this experience of sensuality a poor substitute of the profound experience of great theatre.

Could it be that Neelam is ahead of time and the audiences are not yet ready?

Equally divided were the audiences in their response to Anamika Haksar's production of Synge's Riders to the Sea. While some were thrilled by her innovative additions to the script, some others felt that the heroic spirit of Maurya's silent suffering stood drowned in the songs, jokes, and the verbal diarrhoea of the stories. Obviously Anamika has failed to work the parts into an integral whole.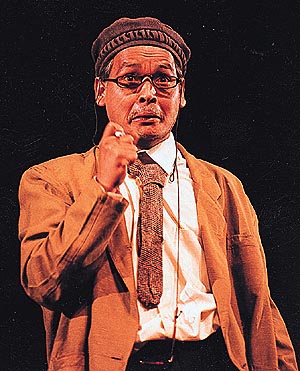 Disappointment was more unequivocal in the case of 'Naachani' written and directed by Bhanu Bharti. Here was the story of a dancer who becomes an object of titillation and is denied even the right to become a mother.
The numerality of the loosely connected dances seemed to suggest that dancing, rather than dancer's tragedy, was the raison d'etre of the play. Anyway, Bhanu's play did highlight one healthy trend — directors' turning to playwriting. Indeed, not only Panikkar, Sircar and Tanveer but also Kanhailal, Mohan Maharishi, Bhakti Barve, Sushma Deshpande, Parasuram Ramamoorthy, Afsar Hussain, Avijit Dutt, Alok Chatterjee, Praveen Bhole presented plays scripted or adapted by themselves.
Mirroring Indian theatre today, plays in the festival reflected all the current trends —turning to Indian epics (Hey Parashuram, Saketam and Seeta Swayamvar, two plays on Ashwatthama, four plays on Draupadi), to folk tales (Bawa Jitto, Aks Tamasha), to history (Dhuruswamini, Saraighat, Ranangan, Zerenga), to western playwrights (Shakespeare, Strindberg, Lorca, Gogol, Synge, Jean Giradoux, Arthur Miller, Tennessee Williams), to Sanskrit classics (Urubhangam, Bhagwadujjukam, Mrichhkatikam, Mudra Rakshasa, Baalcharitam), to adaptations of novels/stories (Subaranlata, Draupadi, Savare Re, Lal Batti, Renu Ke Teen Rang, Ai Ladki). The popularity of solo performances was evident from the presentations of Saoli Mitra, Bhakti Barve, Sushma Deshpande, Sapna Sand — plus Bharat Sharma's Solos in Contemporary Dance. There were representatives even of such trends as colleges of poems (Pul Per Khade Log) and songs (Ei Shaher Ei Samay). Assli Tamasha from Pune represented the popular folk form of Tamasha at its most authentic. The festival had also one new feature this time — an interactive evening with Tanveer after a week-long 'retrospective' as a kind of finale of the festival.
As for the themes, there was God's plenty, but woman was in focus in a number of plays. Amal Allana's Char Chaughi presented a mother and her three grown-up daughters; Prasanna's Road to Mecca (featuring Arundhati Rao) was about an old, 'eccentric' woman's realisation that loneliness is the price one pays for living life on one's own terms; Muthuswamy's Kadavul Peyarai Mattrikonda was about devadasis Jayadeva Hattangadi's Wada Bhawani Aaicha was an adaptation of house of Barnada Alba, Kirti Jain's Subarnalata depicted a woman caught in the web of an orthodox, male-dominated system; Dinesh Thakur's Anii (by Tendulkar) was about a working middle class girl whose dream of being loved is fulfilled only when she is raped. Not surprisingly, Draupadi was the theme of several plays: while Saoli Mitra's powerful solo-performance was built on her and Dorendra's play projected her as the very cause of Mahabharata, Kanhailal (adapting Mahashweta Devi's novel) used her name for the story of Dropdi, a santhal woman, who is raped by security men. While legendary Draupadi had escaped the humiliation of being stripped publicly, courtesy Krishna, no god comes to the rescue of Dropdi.
Mahesh Elkunchwar's Wasansi Jeernani (directed by young Sandesh Kulkarni and featuring Mohan Agashe) had a mystic, philosophical tenor as it dealt with the mystery of death — recording the last moments of a dying man. Yatrik's bilingual Bombay Boshina, depicting the tension between two communities against the backdrop of the Babri Masjid demolition, showed that fence-sitters are no less guilty than the fundamentalists. The theme of Premanand Gajvee's Mahabrahman was social power structure —how the brahmin who performs the holy rituals of the funeral is treated as a subhuman dalit in day-to-day life.
If Turup Ka Patta, directed by Bapi Bose, was a thriller built around CIA conspiracy to kill Chou-En-lai, Good Morning, Inspector was a murder mystery. Perhaps the most inovative work of the festival was Roysten Abel's Shakespeare's Othello — A play in Black and White. Here, in the process of rehearsing Shakespeare's tragedy, taking on the persona they are playing, the performers discover in their personal relations the motivations of the Shakespearean characters and thus re-enact an almost identical drama in their own lives. Borrowing dialogues from a wide range of Shakespeare's different plays, it is a sterling experiment of high order. No wonder it won the prestigious Scotsman Fringe Award at the Edinburgh Festival 1999.