Tuesday, July 4, 2000,
Chandigarh, India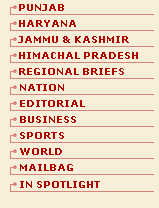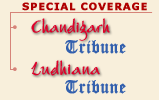 M A I N N E W S
Foodless on a rusty ship
From Varinder Singh
Tribune News Service
JALANDHAR, July 3 — They had dreamed of greener pastures in Germany. Towards this end each of them had spent a whopping Rs 4-5 lakh, arranged after selling of their small land holdings and other belongings. But fate landed them else where— in an abandoned rust-eaten ship off Okaba city of Jordan, where they had to face starvation for about three months before coming back empty-handed.
This is the story of 16 youths hailing from different parts of Doaba region who knowingly or unknowingly fell prey to one of a number of organised gangs of travel agents who dupe people in the name of sending them abroad. All of them who are back and had paid Rs 4-5 lakh each were promised by unscrupulous travel agents that they would be taken to Germany where they would be able to get plum jobs.
A rude shock awaited the victims, identified as Ashwani of Lambra village, Baldev Singh of Makhsoospur village, Amrik Singh, a resident of Fatehpur Sikri in Kapurthala and Tarsem Singh of Dasuya. They were allegedly provided with a visa to Jordan and were made to alight there on February 12. After this, they were huddled in cars and were ferried to the coastal city of Okaba, where they were made to board an inoperational ship used as a hotel.
"What we saw was that there were 60-70 more persons inside the ship and all had been brought from different parts of India and Pakistan. After two days' stay, the ship moved about 2-3 km inside the sea but was soon back at the coast. It did not move thereafter despite promises by those who had taken us there that we would be sent to Germany," said Bhupinder Singh, a resident of Bhatnura village near Bhogpur township, in a complaint to the anti-fraud wing of the district police. He was among 16 persons from Punjab, who were boarding the ship and who were taken by travel agents to Okaba on the promise that they would be taken to Germany after a few days' stay there.
Gurbachan Singh, father of Bhupinder Singh, said Mohinder Singh, a resident of Chanchak village in Kapurthala district, his son Kuldip Singh and Inderjit Malwa, a resident of Garha locality here had promised all of them, including his son, that they would arrange a German visa for them and had fleeced each of them of Rs 4-5 lakh.
Narrating the horrible state of affairs inside the ship, Bhupinder Singh complained that he and others were treated like animals and virtually held in captivity for two and a half months.