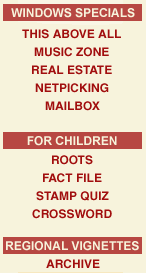 In defence of Babu English
By Shriniwas Joshi
THE dictionary defines baboo or babu as an Indian official who has a superficial knowledge of English, so any English written by me and my clan in the office is Babu English. After all we cannot write literature on the pages of files quoting Shakespeare and Sartre. We quote F.R. (Financial Rules) and S.R. (Service Rules). The problem arises when Babu English becomes our second habit.
During one of my sub-divisional transfers, I found that an important file was untraceable. I sent a note to the head clerk to locate the file immediately and inform me about it. After about twenty minutes, the note came back to me with a scribble, "Hon'ble Sir, With reference to your instructions dated today, I had the honour of a search and then research and research. I have the pleasure to inform you that the file is not to be seen in the office. Most respected Sir, if it is not big talk from a small mouth, kindly permit this humble servant of yours to research your table also. With kindest regards." I was immediately reminded of an article in an issue of Fraser's Magazine of 1873 using the adjectives 'pliable, plastic, receptive' for Babus who had 'the servile wish to please the Sahib log'.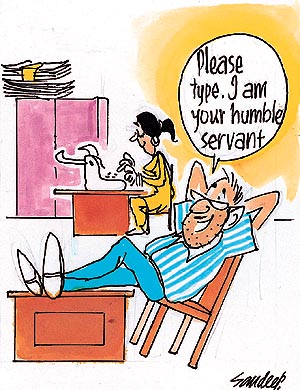 The servility may have gone now, but 'buttering' of the boss continues. Once I had the privilege of sanctioning the grant of a paltry sum for the Association of Schools' Non-Teaching Employees. They were pleased and invited me to be the chief guest for the occasion. I was received with the usual tilak ceremony, garlanded and given a prominent seat on the dais. Then started the process of 'AMULisation'(it used to be 'POLSONising' when that brand was available). A speech was read out and then its written version was presented to me. It said, "Ladies and gentlemen, I have the franchise to place on record that this function could not have been possible had there been no connivance of Mr Joshi in its holding here. Jewels are costly but his time is more costlier. Still he is amidst us which shows how much has he given to us.We are blessed by his blue-blooded presence. He is an officer known for his integrity and stubbornness - a hard exterior with soft interior (Compliment?) ......" Throughout the speech, I somehow managed to maintain a grave exterior. They all were well-meaning persons but unfortunately the language that they were using had its roots seven seas away.

But why target the babus only? Promila Condillac who runs a school in Shimla told me that during her B.Ed course, a teacher while taking a class on 'Elements of Story Writing' said': "A story should have a good beginning and a better ending. The two should be distant apart. Remember students, if ending is discovered near the beginning, the suspension in the story is undone."

Oh, what a relief !