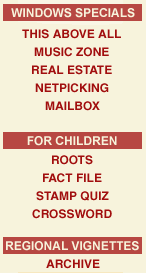 Language growth
WHILE one is engrossed in tracing the roots of words, the process of the creation of new words is ongoing. It is in the area of vocabulary that language change is most obvious. That our language should change even as we speak it, is simply inevitable. We control our civilisation through language; and if the civilisation develops, advances, grows more complex then language must change to keep pace with it. Try managing a cyber-age civilisation with no word for a thing called the computer! Generally, however, except in certain areas such as scientific terminology, language alters so slowly that the changes are not perceived by the user. New words simply creep in just like new concepts do.
Till a few years ago, a mall was the main road or a promenade. The advent of the supermarket brought a new sense to the word mall. In the 1980s, with the increased traffic congestion and parking problems in large towns, as well as the megastore approach to shopping, the shopping mall came into existence. A covered shopping precinct, provided with car-parking and other facilities, it came to be called, simply, a mall. This gave birth to the magalog which is a marketing publication issued periodically, combining the features of the glossy magazine with the characteristics of a mail-order catalogue.
The humble make-up has given way to the more sophisticated makeover. The latest Miss Universe, too, went through one. A makeover is a complete transformation; specifically, the remodeling of a person's appearance when it is carried out by a professional. The word caught the fancy of the business world too. When a company is restructured by a new management, it is described as a makeover or corporate makeover.