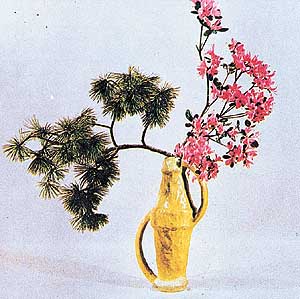 One should know the greatest diameter if the container is long and round and maximum height if it is tall. This measurement plus half again is the minimum visual measurement for our main stem and establishes the finished height of the flower arrangments. Proportion and colour harmony are the basic essentials of flower arrangements. Colour is light. In the gaiety of summer flowers, colour is an intrinsic part of its beauty.

When one wants to be more specific we must talk of hues, tints, shades tunes and values as part of colour schemes which can be explained interestingly as follows:-
Hue is pure colour with no addition of black and white.
Tint is lightening or dilution of the pure or basic hue by addition or white.
Shade is deepening of the pure or basic hue by addition of the black
Tune is a chromatic change of the pure hue by addition of the black and white which is normally referred to as grey.
Value refers to the density of hue in a colour.
Analogous hints at colours in harmony with each other like blue and violet. The two colours can be used in tints and shades etc Monotone refers to one basic colour used with at its hues, tints, shades and tones. For example if yellow lemon is selected the rich shades of ochre to the pale yellow can be used. The term monochromatic also belongs to this style.
The vase or the container must also be included in the colour scheme of any flower arrangement. The container vase is to echo the dominant colour of flower arrangements. In case one is planning on analogous scheme using blues, pinks and mauves the vase should be blue or mauve. It must never be pink as in the colour scheme arrangement The colour 'Pink' is an outsider. The consideration of a dominant colour must, therefore, always prevail except in the case of monotone arrangement. In all colour schemes one hue must be dominant over all the others.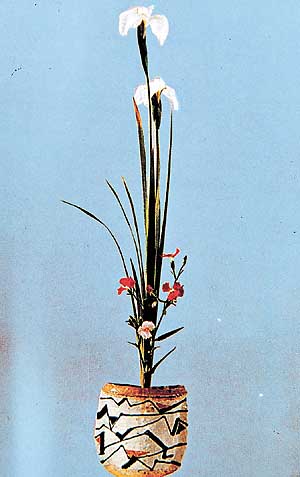 The basis of this thinking is psychological. The human eyes can see two colours simultaneously and they do not feel comfortable to see that for long periods and they get too strained to appreciate the fantasy of colour arrangements. In flower decoration four basic main shapes are preferred (a) horizontal (b) vertical (c) symmetrical and (d) asymmetrical.
Amongst flowers lily, jasmine, dahlias, carnation iris, gerbers, sun flowers, larkspur, delphinium, pansy, rose, lupin, phlox, marigold, chrisanthemum, sweet peas, geranium, sedium, gladiolos, cactus, and others are suited for flower decoration. Yellow, red, purple, white and bronze colours blend very well in most combination of flower arrangements. Chrysanthemum is very dependable as a long lasting flower. Some people like pure green arrangements, in the form of green twigs, leaves and foliage. Also their green and silver flower arrangements provide an excellent setting with appropriate background. The gold rayed lily of Japan is a class in itself and has a very pleasant fragrance of honey scent.
Before starting the actual task of flower arrangements ensure that a scissors, sharp knife, a water can, clear adhesive tape, floral foam, needle pin holder plate, oasis fix and flower food is available for ready use.
The concept of Ikebana speaks for the flowers that endeavour to adapt themselves to their surroundings. In doing so Ikebana raises this practice of creating a style into a ritual. The basic aims of the flower arrangement that stand above the shape, the colour and the beauty of flower formation are to express human sympathy and appreciation towards the living life of the plants and their expectation for future. A tiny flowering plant keeps breathing in rain and wind dreaming of its bright future. Thus the concept of Ikebana is based upon the noble and spiritual interaction between humans and flowers. So Ikebana is not only a scheme of flower arrangements but a blend between the atmosphere, surroundings, grace of heaven and earth as well as the arranger.
A traditional Ikebana is always located in an upright position and has three main branches (a) Shin (b) Soe (c) Tai. Amongst the Ikebana styles Rikka and Shoka are the traditional styles while Nagrie and Moribana are the modern styles. An enclosed photograph shows a Nagerie modern arrangement which reflects the shape of the plant growing up from the earth. It also emphasises a portion of the beauty in charm of branches and leaves. Many persons love traditional Shoka style of Ikebana school for its elegance and dignity as also shown in the second photograph. Shoka styles based on the emotional assumption that the mysterious vitality of a plant is expressed following the plants own characteristic movability exposed to light and obstacles between heaven and earth. In this case the containers represent heaven and earth.