William's choice
From a pauper who is now a prince in the world of academics, we move on to a Prince who is preparing for a career in academics. Well, the strapping young man who will be one day the King of England left the protected environs of Eton end June with a few academic feathers in his cap. He secured a A in French, Latin, biology, English literature, geography, history and Spanish. The otherwise perfect report card, however, had a minor blemish -- a B in maths.Prince Williams will be now going to the University of East Anglia to study art history. The university, it may be mentioned, is known for its creative writing course.
Prince William likes to play rugby and football, wears casuals and loves dancing, pop music and action films. He can cook too, and has a special fondness for the pop star, Britney Spears. This is one thing which Papa does not much approve of.
Nandita's passion
Most may think that Nandita Das' passion is films, considering the fact that her roles have set many a silver screen on fire in recent years. But the daughter of the reputed painter Jatin Das, has set her heart on becoming a potter. The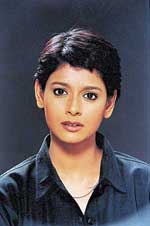 centrepiece in the verandah of her new house in Delhi, (which she says she has bought after taking huge loans), is a potter's wheel. Nandita uses the wheel often enough to make artefacts which give her creative satisfaction.
The petite , dusky girl with sharp well-etched features and a winsome smile considers films as just another creative medium with a special type of hype surrounding it. "It is a struggle to keep your feet planted firmly on the ground as there are too many people who are trying to give you a swollen head. My family and friends in Delhi keep me well-grounded. This is one of the reasons that I prefer to stay here. Films are not the be all and end all of my life. I would only like to do a couple of good films every year." presently, Nandita has more than a couple of films on her platter. She is doing one with Big B and another with Rituparno Ghosh. The third one is based on the true-life story of woman who had been gang-raped.
Different strokes
Kusum Ansal, wife of builder Sushil Ansal, has , despite odds, managed to steer clear of bricks and mortar and built a different identity of her own. Besides being a doctorate in Hindi Literature, Kusum has published over 25 books which include short stories, poems and travelogues. She also wrote the screenplay and dialogues for a film based on her novel Panchvati and a TV serial Titliyan. She is also a director of many educational institutions.
According to Kusum, every person has two sides -- one is the facade and the other is the essence. The first keeps changing according to circumstances while the second or the core remains unchanged. "It is the core which matters and gives you the real identity," she says. Indeed, the sensitive and serious-minded Kusum has created an identity for herself which is far removed from being the wife of a rich man.
Socialite as in cola lite
According to a wag, a socialite is like a lite cola. She has the fizz and it is fashionable to have one within reach.
— Belu Maheshwari