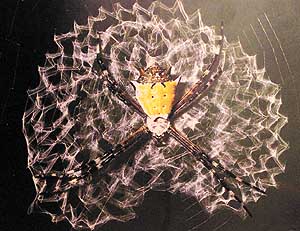 The orb web itself is suspended from a single, horizontal, bridge strand. Below this, a radiating pattern of threads join from the points in the vegetation on the outside to a central hub at the centre of the web. Immediately outside the hub are the strengthening sections of closely spiralling threads, and outside this part is the catching zone, consisting of a spiral of sticky threads on which the prey is caught. The droplets of sticky material are produced from a special gland and daubed on to the threads at regular intervals.

The reflectivity of the sticky droplets is important. If they are too large and too many, they will reflect too much light and flying insects will be able to spot them and avoid the trap. The web must reflect as little light as possible, and the ideal droplet size, for a web in the open, is twice the diameter of the thread itself. Those spiders catching night-flying insects need to be less diligent. In the dark, they are able to use large droplets and so are able to catch moths that would normally escape a modestly sticky, day-type, web because they are able to shed wing scales and escape.

Spiders spinning very large webs, however, have major problems. How do they stop large creatures, such as birds, from flying into and tearing the web? Somehow they must make their webs invisible to insects yet visible to birds. They do this by weaving in a thickened band of silk, called stabilimenta, across the web. It is like a road sign that tells of an obstacle ahead. Birds flying towards an orb web have been seen to put their brakes on and fly over the top. By putting in the warning sign, the spider need not remake his web every day.

The net-throwing or ogre-faced spider anchors its web at the ends of its legs. By day, it stays hidden in a tree mimicking a twig, but by night it spins an A-shaped frame of silk from which it hangs, and constructs a net of the size of a postage stamp which is attached to the feet of its front four legs. When ready to capture prey, it hangs upside down by its back four legs quite close to the ground. As an insect passes beneath, it lunges down and stretches the silken net over the victim, trapping it against the ground. A poisonous bite dispatches the prey and the spider sucks it dry.