IN PASSING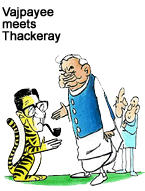 This is one tiger who will get extra care!
IYC chief's arrest stayed
CHANDIGARH, July 10 — The Punjab and Haryana High Court today stayed the arrest of the Indian Youth Congress President, Mr Randeep Singh Surjewala, and five other party activists till July 20 in a case of robbery, criminal intimidation and rioting registered against them on the complaint of a liquor contractor, Mr Babu Ram, by the Narwana police yesterday.
Bridge on Yamuna sinks, traffic hit
YAMUNANAGAR, July 10 — The main bridge on the Yamuna, which connects Haryana and Uttar Pradesh at Kalanaur, about 10 km from here, was damaged today due to heavy rain. Now the traffic was being diverted via Paonta Sahib and Karnal resulting in inconvenience to commuters.

Dhirmalias part of Sikh fold: sect chief
KARTARPUR, July 10 — The issue of "readmission" the Dhirmalia sect into the Sikh fold took a new turn with Mr Karamjit Singh, the head of the sect, maintaining that he had never sought his community's readmission into the Panth, as it was already a part and parcel of the Sikh mainstream since the times of the ninth Guru, Guru Teg Bahadur.
EARLIER STORIES
(links open in a new window)
Crucial NC meeting today
July 10, 2000
BJP leaders back RSS chief's demand on J&K
July 9, 2000
RSS chief asks govt to abrogate Art 370
July 8, 2000
Farooq under pressure to pull out of NDA
July 7, 2000
No pre-'53 status to J&K: PM
July 6, 2000
Cabinet rejects J&K autonomy resolution
July 5, 2000
Autonomy demand will not end: Farooq
July 4, 2000
SAD may go in for mid-term poll
July 3, 2000
Atal meets NDA leaders, Thakre
July 2, 2000
Cabinet to decide on autonomy: PM
July 1, 2000
Jalandhar blast kills two
June 30, 2000