Friday, July 14, 2000,
Chandigarh, India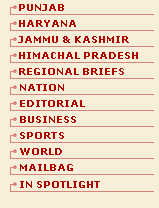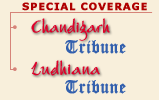 M A I N N E W S
Engineers drain department funds
From Varinder Walia
Tribune News Service
AMRITSAR, July 13 — A huge amount running into several crores is outstanding against engineers of the Drainage Department many of whom retired over a decade ago.
This speaks volumes of the attitude of the officials concerned who failed to even register leave alone recover public money from employees. The case also presents an interesting study in to how the engineers managed to get no objection certificates (NOC) at the time of their retirement despite the huge amount outstanding against them.
A circular recently issued by Mr Harjit Singh Sainy, Executive Engineer, Mechanical Division, Drainage Department, Ferozepore to various departments of the state lists as many as 36 engineers including junior engineers, subdivision officers and executive engineers who have failed to clear large outstanding amounts against them. The list of 'defaulters' includes at least 15 engineers who retired between 10 to 20 years ago. Although the amounts outstanding on the list total around 1.25 crore this could be just the tip of the iceberg.
Sources pointed out that some of the engineers may have died in the past two decades making it impossible to recover the money.
Interestingly Mechanical Wing of the Drainage Department which prepared the list and circulated it to various departments has no information of either the date or even year of retirement of many of the engineers who figure in the list. The names listed include Mr B D Shoury, Junior Engineer, (Rs 50,995 outstanding), Mr Harjit Singh J.E. (Rs 4.82 lakh), Mr G S Aliwal SDO (Rs 1.74 lakh), Mr Mahavir Goel (Rs 3.65 lakh), Mr Sikandar Singh SDO (Rs 1.32 lakh), Mr Balwant Singh J.E. (Rs 3.36 lakh), Mr B Singh (Rs 1.76 lakh), Mr Om Parkash Pathak (Rs 1.66 lakh), Mr Khush Raj Gupta (Rs 2.77 lakh), Mr Rajinderpaul Singh (Rs 95,565) and Mr Chanan Singh (Rs 51,772). The list mentions that the department does not know when they retired.
Some engineers who failed to clear outstandings from their "miscellaneous advances" even 10 years after retirement include Mr Sohan Lal (retired in August 1990), Mr K G Sharma (retired in January 1990), Mr Bhajan Singh Bhullar (retired in 1990). The most astonishing case though is of Mr J S Tur, an SDO who retired on January 31, 1997. Outstandings on miscellaneous accounts against him are more than Rs 57 lakh.
Interestingly, there is Rs 10.29 lakh outstanding against Mr S P Jaura who is due to retire at the end of the month. The amount has been outstanding ever since he was SDO (Drainage). Mr Jaura is now Executive Engineer in the research institute of the Irrigation Department, Amritsar.
Other defaulters include Mr Sant Ram Birdi (Rs 5.25 lakh), Mr Subhash Chander (Rs 1.45 lakh), Mr Gurmail Singh Rai (Rs 70,000) Mr R S Kalsi (Rs 1.72 lakh), Mr Pargat Singh (Rs 52,445), Mr Vijay Kumar Arora (Rs 4.84 lakh), Mr H K Behal (Rs 1.70 lakh), Mr Bhupinder Singh
(Rs 93,493), Mr R S Buttar (Rs 3.09 lakh), Mr Swarn Singh (Rs 98,391) Mr Jit Singh (Rs 2.43 lakh), Mr Dipal Singh (Rs 10.75 lakh), Mr R S Gill (Rs 1.78 lakh), Mr Avtar Singh (Rs 1.94 lakh) and Mr Kamaljit Singh (Rs 5.86 lakh).