IN PASSING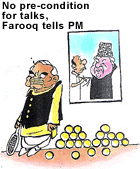 Ball is now in the Centre's court !
By Sandeep Joshi
Centre seeks fresh proposals
Farooq meets Mulayam on autonomy
NEW DELHI, July 19 — The Centre has asked the Jammu and Kashmir Government to submit fresh proposals on the autonomy issue even as Chief Minister Farooq Abdullah today said that the Vajpayee government should soon set up a Group of Ministers to assess the quantum of autonomy for the state.

Many roads closed
Chandigarh, July 19 — Incessant rains in the past two days has left several roads blocked, seriously effecting vehicular traffic. The worst hit has been Himachal Pradesh where the Hindustan - Tibet road and several link roads in the apple belt are blocked. Roads in the foothills of Haryana and Punjab are also blocked and bridges have caved in at several places.

Speight throws a spanner
Fiji Govt's swearing-in ceremony
SUVA, July 19 — Fiji was plunged back into turmoil today after nationalist rebels forced the swearing-in ceremony of the new government to be postponed with a warning that the country was "verging on a civil war".

Chinks in Cong leadership show
ABULKHURANA (Muktsar), July 19 — Differences within the PPCC came to fore here today when the PPCC president, Capt Amarinder Singh, said the activities of MP and senior vice-president Jagmeet Brar would harm the interests and prospects of the party in the next Vidhan Sabha elections.
EARLIER STORIES
(links open in a new window)
Union Cabinet halts Jagmohan's drive
July 19, 2000
51 die in Patna plane crash
July 18, 2000
Thackeray threatens to oust Deshmukh
July 17, 2000
No compromise on autonomy: NC
July 16, 2000
NHRC rejects govt defence on PoT Bill
July 15, 2000
Chaudhry, other hostages freed
July 14, 2000
8 die in Kinnaur landslip
July 13, 2000
Vajpayee invites CM for talks
July 12, 2000
NC discusses options
July 11, 2000
Crucial NC meeting today
July 10, 2000
BJP leaders back RSS chief's demand on J&K
July 9, 2000