Wednesday, July 26, 2000,
Chandigarh, India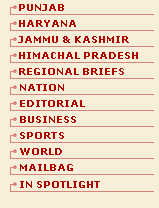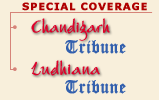 M A I N N E W S
High-level team to probe blast
From Varinder Singh
Tribune News Service
JALANDHAR, July 25 — Even as the police has constituted a high-level inter-district team headed by the Jalandhar range DIG, Mr Suresh Arora, to probe the incident of a blast in a private bus near Ballan village which left seven passengers dead and 25 injured last evening, preliminary investigation has indicated that the blast was caused by a high-explosive device like the RDX or the PETN.
Forensic experts and police officials were of the view that the explosive was mixed with a material like petroleum gel due to which the bus got engulfed in a blaze immediately after the blast, which was a major cause of loss of lives.
Meanwhile, the Chief Minister, Mr Parkash Singh Badal, who visited the injured at the local civil hospital announced an ex gratia of Rs 1 lakh each to the kin of those killed an amount of Rs 25,000 each for the injured. He also announced that the entire cost of treatment would be borne by the Punjab Government. He also directed Health Department officials and the Deputy Commissioner Ludhiana, to make arrangements for the shifting of two persons who had received serious burn injuries to Dayanand Medical College at Ludhiana.
Earlier in the morning, the DGP, Mr Sarabjit Singh, along with two teams of forensic and bomb experts from Chandigarh, including Dr Promilla Goyal, Director, Forensic Laboratory (Chandigarh), and renowned bomb expert, Dr Gopal Ji Misra, inspected the bus and the spot where the bomb had exploded.
Talking to mediapersons, Mr Sarabjit Singh said though the exact nature of the bomb could be ascertained only after a chemical examination, the circumstantial evidence indicated that the device was a high explosive, mixed with a fire-causing material. He said the preliminary investigations indicated that the device was concealed in a bag placed in the overhead luggage rack. He discarded the view of some passengers that two explosions had taken place by saying that sometimes persons near the blast get such an impression due to the echo of the high-intensity sound.
Police sources said the condition of the bus indicated that the explosive could be PETN and not RDX.