IN PASSING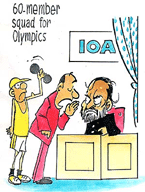 Sir, shouldn't we include Jaya Jaitlyji as a manager of the boxing team?

By Sandeep Joshi
Hizbul threatens to revoke ceasefire
ISLAMABAD, July 27 — Militant outfit Hizbul Mujahideen today threatened to revoke its unilaterally declared ceasefire in Jammu and Kashmir if India insisted on holding talks within the framework of its Constitution.
Centre cautious of Hizbul call
NEW DELHI, July 27 — The BJP-led National Democratic Alliance (NDA) government is taking a cautious approach to the call from the militant organisation Hizbul Mujahideen for a unilateral ceasefire, specially keeping in view previous experiences and also the approach of the Jammu and Kashmir Government.
CBI sends team to London
NEW DELHI, July 27 — The Income Tax Department has so far opened seven bank lockers in Delhi and two in Patiala belonging to cricketer Navjot Singh Sidhu, even as the CBI sent its team to London to question the prime accused in the match-fixing case, Sanjeev Chawla, and cricketer Ajay Sharma.
Old building lost in 'kar seva'
AMRITSAR, July 27 — An ancient building adjoining Baba Atal, that survived heavy shelling during Operation Bluestar, has been demolished, thanks to the 'kar seva' being carried out by Baba Jagtar Singh.
EARLIER STORIES
(links open in a new window)
Nation salutes Kargil martyrs
July 27, 2000
Court discharges Thackeray
July 26, 2000
Jalandhar bus blast kills 7
July 25, 2000
Police gets orders to prosecute Thackeray
July 24, 2000
President pardons Purulia case convicts
July 23, 2000
CRR, bank rate up; Re at all-time low
July 22, 2000
IT raids on premises of cricketers
July 21, 2000
Three Sena ministers quit Union Cabinet
July 20, 2000
Union Cabinet halts Jagmohan's drive
July 19, 2000
51 die in Patna plane crash
July 18, 2000