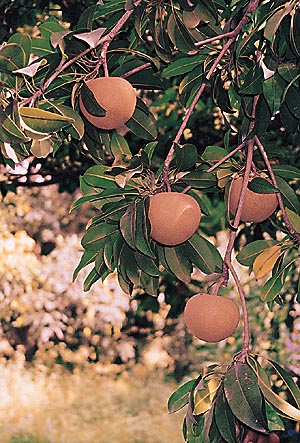 flesh beneath the skin means itís ready to be picked for wrapping and keeping it in a sealed container for two to three days. But that does not mean that you have to scrape every fruit. You should also be careful not to do this very often. An injured fruit will get spoiled in no time. With experience you will learn to depend on your judgement of the size. There is one more way by which you can tell whether the fruit is ready. You will notice brown dust on the surface of the fruit. Pick it. Do not wait for it to become soft. Pick it while it is still firm. You may notice some milky latex. On storage for ripening, it will disappear and then you will get sweet, juicy, fragrant and delicious fruit.
There are a few known varieties of chikoo like cricket ball, chattri, kalli-patti etc. Cricket ball is round in shape, whereas the other two varieties are oval and elliptical. People usually prefer the latter two, as these are more sweet.
One major complaint of gardeners is about the barrenness of chikoo tree. People want to know if this is because the tree is growing singly and has no partner. No, it does not need one. It can bear fruit even when growing singly. But there are some stray chikoo plants which do not bear fruit. They must be uprooted.
Chikoo trees bear fruit twice a year but during summer months, says Dr Amrik Singh Sandhu, Head of the Department of Horticulture, Punjab Agricultural University, Ludhiana, due to lack of humidity and hot winds, there is very little fruit. During August-September, the maximum fruit is borne.