Ek Baar Phir
Remember Ek Baar Phir and the intensely expressive heroine Deepti Naval? Those who do, also remember her haunting looks and her passionate intensity. In fact, Deepti is a multi-faceted artist(e). Her latest forays are into the field of book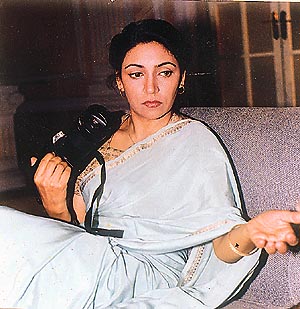 production and scripting a serial. The book project stems from the photo exhibition that she had held on the Ladakhi landscape some time back. It was titled In Search of Another Sky. These shots of a picturesque yet desolate landscape acutely depict a sense of loneliness and isolation. Many visitors to the exhibition commented on the feeling contained in the photographs and Deepti decided to give a personalised narrative to the pictures and produce it in the form of a book. The actress already has a book of poems to her credit. "Poetry is an expression of the inner self and I write whenever the mood strikes me," she says.
Deepti is a romantic at heart and has lived her life her way. "I do not plan anything. I am a person given to letting the heart rule over the head. I am not logic-oriented or deadline-oriented. I do things in spurts. Stimulation is very important to me." Perhaps this is the reason that she oscillates between workplace Versova, Bombay, and home New York always in search of another sky.
Shy achiever
Vikram Lal turns down all requests for interviews because he feels that he has not achieved enough. But this self-effacing statement does not take into account the success that he has achieved in turning Eicher around and making it one of the best run companies in the country. It also does not take into account the fact that Vikram Lal resigned from the chairmanship of the group when it was at it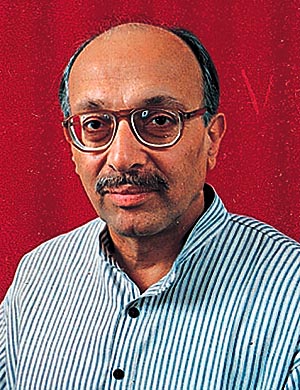 pinnacle and took a backseat. The action displayed his guts to let go and delibrately set a precedent that no institution ought to be person-centric. In a world where occupation of the chair is the be-all and end-all of our existence, Lal's decision is no mean an achievement.
After abstaining himself from the hurly-burly of running Eicher, Lal took over Shroff's Eye Hospital and strengthened its activities. He also started the Good Earth Foundation to impart quality education in rural schools. The Foundation runs centres in Thane, Lucknow, Parwanoo, Bhopal and Alwar.
Lal is also passionately involved in promoting ecological issues. His interest in fine arts has led Eicher to open an art gallery where up coming artists can exhibit their works free of cost. Besides, the multi-facted corporate leader is at the forefront of conservation and preservation of old monument. Keep up the good work, Mr Lal. We hope many others follow in your footsteps.
Tailpiece
Forget the quality of education in rural schools. Right here in urban and elite surroundings we have such "quaality" statements issuing from the mouths of English teachers in two of our "elite" schools. Says the scholarly teacher to his students, "Open the window and let the climate come in." Another pearl, "You couple of three run and touch that wooden tree." Lastly, after having bored his students with his nonsense, our guruji anxiously asked the boys, "Are you boring?"
— Belu Maheshwari