Wednesday, August 2, 2000,
Chandigarh, India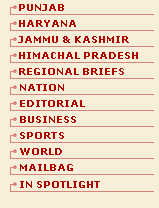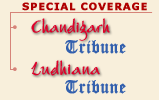 M A I N N E W S
12 killed in Assam train blast
GUWAHATI, Aug 1 (UNI) — Minister of State for Railways Digvijay Singh today visited the site of yesterday's explosion which ripped through two coaches of UP Tezpur-Katihar Passenger train between Rangia and Goreswar stations on the North Eastern Railway last evening, official sources said.

At least 12 persons were killed and eight injured in the blast.

The Minister was accompanied by both Railway General Managers-open line and construction, technical and other staff members.

Meanwhile, railway sources said so far eight bodies had been recovered and six of the eight injured shifted to the Army Hospital at Basistha here. Two of them were reported to be in a critical condition.


Mangled railway tracks at the site where ill-fated Arunachal Express was blown up by Bodo militants near Rangia in Kamrup district of Assam on Monday evening. — PTI
Meanwhile, two NDFB militants, suspected to be involved in the blast on railway tracks in Kamrup district, were killed in an encounter with the police, 20 km from Gareswar, senior police officials said.
Officials said a small group of NDFB militants carried out the blast on the directive of their chairman Ranjan Daimary presently in Dhaka.
The slain militants were yet to be identified.