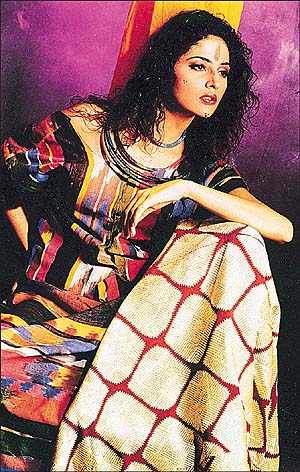 At the same time, today's youngsters are careful not to be weaning Hemant Trivedi — the designer who specialises in dressing beauty queens. They are far too clever for that. They would adapt, improvise and mix-'n'-match, rather than appear as clones of their role models.
Somehow, in all this, cotton has come to occupy centre-stage. The same outfits which a Madhuri Dixit or Aishwarya Rai would have worn in silk and satin, are now available in cotton blends, if only to create an impression of understated elegance.
The cuts, the fall, even the colour schemes and embellishments are being replicated, but on a different fabric. It is with the accessorising — say a contrasting dupatta or with shoes and a matching handbag — that a change in look is established.
"Cotton drapes well to amplify the elegance of any designer piece of clothing," justifies Rahman. "It moulds the body as well as any high-end synthetic fabric and is inexpensive at the same time. Cotton collections can be varied, splendid and refreshing."
More than that, they do not indicate a point of reference. Outfits designed in cotton, almost always, carry a certain exclusivity about them, largely because of their adaptability to a variety of accessories and colour options. The most popular colours are various earth shades, whites and pinks.
"Cotton breathes better than most fabrics and is known for colour retention, " says Manish Rawat, a merchandiser. "A coloured cotton T-shirt can be washed thoroughly numerous times, and still maintain its rich colour."
Cotton fabrics are also very receptive to different prints. Day wear dresses in bold, floral or geometric prints are common campus favourites. Oriental self-design is passe and in its place, underplayed patterns and self-designs are being sought by 20-somethings.
According to the National Institute for Fashion Technology (NIFT), the famous 'pink cotton' is a particularly hot number in the celebrity circuit. "Pink for men was a rage a few years ago, if you might recall," Sudeshna Tewary, a design consultant with the institute points out.
"These days, pink shirts have become the biggest sellers, reflecting the image of a preppy boy. The trend is geared towards preppies and pink cottons have become an accepted part of one's wardrobe, despite the risque colour."
In women's wear, the most popular styles are in white cotton. As designer amrita Sood points out, the silhouettes have remain unchanged in western styles, regardless of the fabric. In pants, for example, only the pledges are being reworked with a new cut —at the waist, or in the pleats.
Clearly, the trend is now to borrow from the past, be it the casual trouser, the pencil or straight pants. These are well-defined with a tight fit that begins, not a the waist, but at the hips. Detailing is minimal here and cross pockets are gradually making a reappearance.
For evening wear, dresses are turning increasingly sensual with softer varieties of cotton that cling to the body. The overall emphasis is, however, on simplicity with maximum attention on finish. Sleeveless dresses are in with the necklines not too deep. Mystery, not exposure, is the unique presentation device.
While pastel colours in a gloss finish highlight the pret-a-porter day casual look, evening wear uses heavy tones of shimmering black and grey with the fabric being more opaque. Cotton is blended with a shine and grain effect to create a new generation look in daywear dressing. (MF)