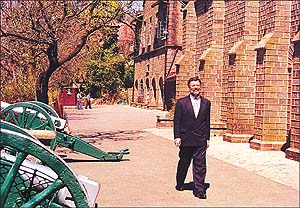 Andy Gray's association with Sanawar goes back to 1979, when Andy had been looking for a sabatical for one year away from the U.K. At that time he was in Shrewsbury School, one of the top public schools in England. Eric Anderson, headmaster of Shrewsbury School, sanctioned Andy the leave he had sought.
"Maximum two years, Andy" said Eric Anderson from the UK. But that was not to be. Andy stayed on in Sanawar for more than four years. It was finally in 1983 that Andy Gray returned to the UK.
When asked about the changes he finds in the school since 1983, Andy Gray thoughtfully said: "Children are children all over the world. They don't change. They are exactly how I would expect them to be. The teaching methods, however, need to be changed.
Andy has no illusions about Sanawar. "There is no getting away from the fact that this school is one of the major educational institutions in the world. However, it would foolish to pretend that Sanawar still is the great school that it once was. One of my jobs would be to reverse that downtrend.
"One reason why the school floundered over in the recent years could be that it had lost its vision of what it was trying to achieve, for whom and how. It could be due to the changes in the global situation of classroom development.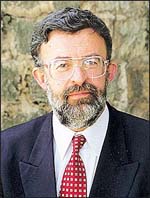 "We are currently rebuilding the library, making it a 21st century library and linking it with the other learning centres around the world. Every child will have an e-mail address.
"We hope to display some of Sanawar's past. Children will be in constant touch with their heritage. The library would be a living museum. We have documents, coins, photographs, old projectors, old uniforms, school colours from years gone by. The library would be alive with Sanawar's past — bits and pieces of memorabilia that are the heritage of the school. When children get fed up with studying, they can wander over and see these things and become aware of the traditions of their school. The library would be a source of learning for the teachers as well. Children will see that adults also learn, and will understand that learning is an ongoing process. Learning does not stop when you leave school. It's a lifelong process.
"If you have to survive in the global economy, you have to continue to upgrade your skills and knowledge", said Andy Gray.
Keeping this in mind, 40 staff members have decided to upgrade their computer skills. Everyone at Sanawar will be computer savvy.
Andy Gray was concerned about the magnificent buildings of Sanawar which are in need of renovation and repair. Another issue on his priority list is water harvesting. "The quality of life must improve", he asserts. "We have a lot of land here. Sanawar has 150 acres. Since there is a lot of water here during July and August, we need to have storage tanks and develop water catchment areas.
Shortage of water has left a negative impact on the teaching and learning curriculum of the school!
"How does a child learn who comes to class in the morning not having had a proper wash?" Good question, indeed!
In the almost two decades that Andy Gray was in the U.K. he held some prestigious posts. He was headmaster of Breckenborough School in North Yorkshire for five years. He set up an independent school in Scotland. "It was a grand old castle and nothing else! Absolutely nothing. My first job was to go out and buy paper clips!"
He then took over a school in Cheshire which subsequently expanded into an educational foundation. He was Chief Executive of an institution that was responsible for education, health and social service. He was finally elevated to the post of Chairman of the National Association of Independent Schools.
Then last summer he learnt on the web that Sanawar was on the lookout for a headmaster. And so here he is. The rest will be history.
A friendly bearded face, bubbling with energy, bursting with ideas, Andy Gray is a man with a mission and a vision.