"St. Johnís Church in the Wilderness is so named because the place used to be in complete wilderness when it was built in 1852," says the churchís pastor, Rev. K.J. Kunjumon. When the devastating earthquake of 1905 struck the Kangra valley, most of the buildings in the area were razed to the ground, but the church came to no harm. Only the spire and the bell within suffered some damage.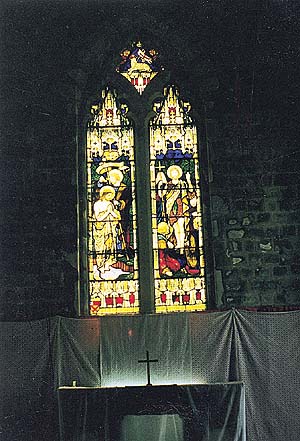 A new bell weighing about 600 quintals, and made of nine different metals was brought from London in 1915. Three years ago, some burglars made an attempt to steal this heavy bell. They had barely managed to lug it up to the nearby road when they were spotted.
Since then the pastor has put this bell along with the brass reading stand (weighing 150 kilograms) and the oil lamps under lock and key. The oil lamps, imported from Germany, were earlier used to illuminate the church instead of candles.
The church holds attraction for tourists visiting this popular hill station. As many as 500 visitors come to see this artistic wonder every day. The visiting timings are from 10 am to 5 pm but the pastor keeps the church open from early morning till late evening. Although the state government is restoring the churchís boundary wall, it needs proper maintenance.
Some time ago, the stone-slated roof had been damaged by monkeys. Despite the general wear and tear, the church stands out amid the thick pine and deodar tress. "Itís like an island here, calm and quiet. Everything about the place is special ó the trees, the mountains, snow in the winters. All this reflects the beauty of Godís creation,"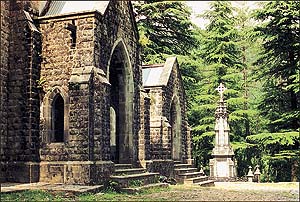 McLeodganj was known as the ĎGhost towní after the British left India in 1947. The place regained its glory only after the Tibetan spiritual leader, the Dalai Lama, settled here.
What about the wilderness? Rev. Kunjumon says, "Although the forest around is not as thick as it used to be, the fear of wild animals is still there." Narrating an incident that occurred on a moon-lit night, he said he was taking a walk around the church with his dog when suddenly he saw a cheetah blocking the path. "My usually shy dog started barking. The cheeta menacingly came towards us. Angrily I threw the torch at him with full force and shooed him away. Till today, I wonder how I escaped death that night. All I can say is maybe my time had not come," amusingly recalls Rev. Kunjumon.