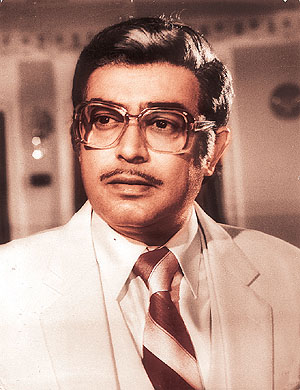 Sanjeev Kumar's real break into bigtime cinema came in 1968 when he worked in films directed by Hrishikesh Mukherjee. In 1968, the then struggling Sanjeev made his presence felt by his natural and down-to-earth performance as a doctor and as Sumita Sanyal's lover in Ashirwaad. In 1969, Hrishikesh
Mukherjee cast him in a strong supporting role as hero Dharmendra's friend who believes that compromise is the only means of survival and success in the world where dishonesty is the rule and honesty an exception. Sanjeev left footprints of his talent on the sands of time. In Sangharsh he matched strides with the thespian Dilip Kumar and proved how good he was as an artist. He walked away with the best supporting actor award.
Sanjeev, the actor who was unknown till then, played the role of a maniac in Khilona like his very life and career depended on it. To get into the skin of his role, he lived for months in a lunatic asylum. Khilona took him to the pinnacle of glory and grandeur. After Khilona he never looked back. He never fit into the idiom of a conventional hero — he did not want to either. He just ripped open and re-wrote all the conventions of the film industry when he successfully played Jaya's lover in Anamika and Naukar within months of playing her father in Parichay and then went on to play the role of her father-in-law in Sholay.
According to Gulzar, Sanjeev always understood the requirements of his role. In Koshish, he conveyed more pathos as the moist-eyed, mute,handicapped man whose amazing eyes were the broken windows to his soul. No one could convey disgust and helplessness better than Sanjeev. In this film he had no dialogues but could still convey anger against his son through his smouldering eyes when he refuses to marry a dumb and deaf girl. In Mausam, he gave an equally riveting performance as the long-lost father of Kajli — his own daughter — a prostitute — who considers him as her client. As he walks the stairs of the brothel, the feelings of dejection on his face and storm raging in his eyes are to be seen to be believed.
In Aandhi, despite the formidable performance of Suchitra Sen, the attention of the audience could not be deflected from Sanjeev's brilliantly supportive role as her husband. A
thinking actor, he proved that the best location for an actor is his face and what happens on it. Sanjeev's strength, whether in the blockbusters like Khilona or a knockout flop like Vishwasghat, or an experimental disaster, Koshish lay in his dogged sincerity. A twitch on his face could convey more than pages of dialogues.
Sanjeev Kumar was an actor for all seasons. Be it comedy or tragedy, he could do it effortlessly. It is amazing how he could skilfully move from a flirtatious husband in Pati Patni Aur Woh to the tearful lover in Anamika. When it comes to comedy, one can only think of Sanjeev Kumar. No other actor could excel at comedy like him. He was so hilarious in Angoor. Watch Sanjeev's expressions in a scene where the look-alike get interchanged and the wrong Sanjeev Kumar lands up as Moushumi Chatterjee's husband. He was just too good. He raised silliness to an art form in this scene.
In Hindi films, the only way to express anger is to scream oneself hoarse and hurl abuses of the Kutte-Kamine variety. One has to remember Trishul when Sanjeev Kumar expresses anger through his eyes. Each time Amitabh Bachchan, (who plays Sanjeev's illegitimate son), steals a march over him, his rage becomes palpable.
Naya Din Nayi Raat was Sanjeev Kumar's magnum opus. He performed nine different roles and assayed all of them deftly. In these roles, he mixed and watched nav rasas. The feelings of comedy, humour, pathos, anger, fury, fear, valour, bravery, wonder and peace expressed by him set the screen aflame. This film earned him a permanent place in the Hall of Fame.
From 1960 to 1985, he acted in 153 films. He was given the coveted National Award for his brilliant performance in Dastak and Koshish. From the stage to an actor in the crowd, to stunt films, to National Awards for acting is a long way up the ladder which Sanjeev Kumar managed. He was an actor to grab every opportunity and to give it hisbest.
Some of the other films in which Sanjeev Kumar left an indelible impression of his histrionics are Seeta Aur Geeta, Biwi O Biwi, Anhonee, Harjayee, Yehi hai Zindagi, Zindagi, Imandaar, Man Mandir Qatal, Love & God, Sawal, Ladies Tailor, Manoranjan, Vidhaata, Jani Dushman, Ram Tere Kitne Naam, Shatranj Ke Khiladi, Namkeen,..
Sanjeev Kumar lived life rough and had a strange premonition that he would die before he was 50, as no male member in his family had lived beyond 50. He was barely 46 when he died on November 6, 1985.
How true that a flame that burns twice,lasts half as long. A longer life and we would have a greater actor.