Me, too?
This is what good moms are for or this is what super moms are for -- they not only come up with winning ideas for themselves but their children too churn out the big ones. So log on to the one floated by Shobha De's son from her first marriage, Aditya Kilachand. Called almari.com, the site offers the best of Indian haute couture and everything else that you would like to put in your almari. You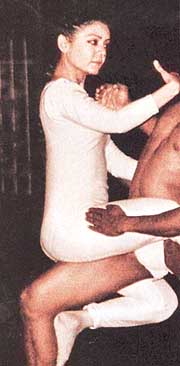 can go on this site and buy creations done by the top most designers in the country and even ask for their advice. The best models wear these creations for you as you make up your mind on what to buy. The site also features the look of the month, celeb talk and lists auction dates.
Of course, the highlight is dear old De, who in her new avatar writes on fashion and responds to queries on it from visitors to the site. According to Aditya, his mom regularly attends the weekly edit meetings and the two bounce ideas off each other. "Our relationship is close," he says, "But she is not my buddy. She is my mother and I look up to her. I respect and admire her and if my relationship with my step mom and step dad (complicated, no? Aditya stays with his biological father. Both Shobha and Kilachand have remarried) is good it is because of her. She has the ability to adapt herself to situations and achieve a balance."
Aditya, interestingly, is a finance and marketing graduate from Boston College, USA, and could have opted for a cushy corporate position. Instead, he designed the website himself and contacted all the leading designers. He believes that almari.com will be a huge success. "It is getting about a lakh hits a day," he claims.
Bold ballerina
Daksha Seth is the new face of the performing arts. Her performances have been stunning and have evoked strong responses. Her admirers say that her innovations have changed the way we have looked at dance so far. Her critics lambast her for distorting it and employing every gimmick in the book. But whether you choose to like her or hate her, you cannot ignore her.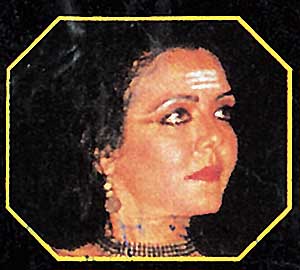 A product of Kumudini Lakhia's school, Kadamb, which has produced three generations of highly talented dancers like Aditi Mangaldas, Daksha sets her own course. She learnt kathak, mayurbhanj, chan and kalaripayattu and then started to experiment. Her work ,therefore, combines pure dance, acrobatics, martial art and western music to produce an effect which is a heady burst of astounding energy. Sarpagati, Yagna and In search of my Tongue made her audience gasp with amazement. They combined vibrant sexual choreography with content and message.
Daksha's soulmate is her husband Devissaro, an Austrian, who is a musician, a composer and a photographer. He has devoted all his life to experimenting on amalgamation of various Indian arts.The couple lives amidst the sylvan surroundings of the Vellayam lake, 14 km from Thiruvananthapuram. In 1989, they founded Aarti or The Academy for Art Research, Training and Innovation.
Daksha is currently working on her new production titled Bhukham. She plans to premiere it in Mumbai and Bangalore in November and then take it abroad. Daksha says that it is based on different traditions but is also rooted in contemporary space. "In fact, a lot of dancers are above the floor or 'flying dances'. These are based on traditional exercises called Malkham from Maharashtra and Gujarat which use ropes and folds. I am exploring new physicalities and focusing on a new audience between 14 and 25 years of age. This idea has been with me for the last 15 years and I have lived these years to see it materialise. To me dance is a passion and at 36 I know that it means the most to me. I will always continue to experiment and come up with something unique," she says confidently.
— Belu Maheshwari