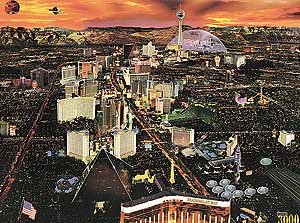 Gambling in Las Vegas now carries no vestige of organised crime. The Gaming Control Board oversees the activities of all Navada gaming establishments, maintaining tight control through frequent unannounced inspections of gambling personnel and equipment. Cheating is seldom perpetrated by the house itself. In fact, most cheating is done at the expense of the house; a dealer sometimes colludes with an accomplice player to cheat the house.
The annual visitor count to Vegas is 35 million. And they drop more than 6 billion dollars inside the casinos and spend another 6 billion on travel expenses. The airport, conveniently located near the Strip, handles 1400 daily scheduled flights. And slot machines abound in its hallways — an apt introduction to a city centred on gambling.
Las Vegas today boasts of 1,20,000 hotel rooms; more than any other city in the world. And new mega projects are announced regularly. With casinos currently proliferating in various parts of the country, Las Vegas is going to ever-greater lengths to maintain its status as the 'Ganges of gambling'.
There is no end in sight to the development of theme attractions, amusement parks and unabashed spectacle. The Venetian hotel-casino, opened in 1996, has a grand canal running through it, complete with gondolas and uniformed boatmen. And mind, Las Vegas is located in a desert. Luxor, with its 13 acres of exterior glass, looms high in the shape of an Egyptian pyramid. The elevators are named "inclinators" as they rise at a 39-degree angle. Treasure Island stages a mock fight (six times nightly every 90 minutes) between a British naval ship and pirate boats. Excalibur is built like a medieval town: turrets, spires, and a 265-ft-tall bell tower. Circus Circus presents circus acts continually, along with its casino business. Stratosphere tower is the tallest observatory tower cum restaurant in the country and sports the world's two tallest thrill rides.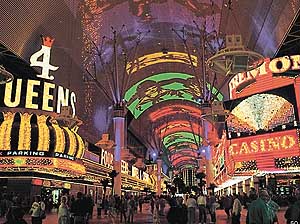 Yet what can be rated as the most exciting spectacle in Las Vegas is the Fremont Street experience. The older downtown casinos — Golden Nugget, Horseshoe, Lady Luck, Four Queens, Plaza, and others — all located around Fremont Street found themselves losing customers to the more glamorous casinos-hotels on The Strip. To counterattack, they got Fremont Street closed to vehicular traffic in 1995. And turned the area into a walking plaza with terraces, fountains, musicians, and landscaping. Four blocks of the street were covered by a 1400-foot-long, 90-foot-high space frame —an enormous vaulted geodesic matrix. In addition to providing shade from the blistering sun, the space frame serves as a stage for a night-time attraction. The canopy has 2.1 million tiny lights, which come to life in a computer-driven, multi-sensory show.
The whole area has taken on a festive, fairy-land look, something that a visitor to Las Vegas shouldn't miss. The Golden Nugget has another attraction; it has on show the biggest gold nugget in the world. Binion's Horseshoe entrance displays a hundred rare $ 10,000 bills ; a real million earning no interest. And in this casino, you can make the largest bets in the world.
Since the casinos make the rules of the game, they simply give themselves a mathematical advantage — the percentage. The game of roulette best illustrates the house advantage. With 0 and 00, there are 38 numbers but the winner gets only 35 times. This translates into an advantage of 5.26 percent. In wheel games and keno, the house advantage can range between 10 to 20 percent. Expert players can reduce house advantage in craps (a complicated betting game) to 1 percent but the actual house advantage works out much higher because of many poor players.
If craps is the hottest and noisiest game on the casino floor, blackjack is the coolest and most cerebral. World-class blackjack players can and do win considerable sums of money. For an average person familiar with basic strategy and playing with restraint, the house advantage is around 2 percent.
An increasingly large area of casino floor is given to slot machines, and these are placed in the most accessible positions. The traditional fruit-machines are being replaced by electronic ones. On offer are huge jackpots. The house advantage is however ensured in the setting of every machine.
Slots are particularly popular with first-timers, as well as players intimidated by the fast pace and high pressure of table games. On the other hand, these are still unpopular with old-timers, who consider them machines to take away their money.
With the introduction of video poker machines in the late 1970s, a whole new dimension has been added to coin-operated machines. Finally, here is an interactive machine with which one could make decisions, play haunches, and have a whole level of enjoyment beyond the 'idiot pull'.
Yes, you can win in a casino, but only in the short run—you can win a battle but never the war. The longer you play, the more certain it is that you will lose; the percentages are simply such. No wonder, casinos are aggressive and creative in luring and keeping customers longer at the tables or slot machines.
So your best bet is to play it smart. Never gamble when you are tired or sick. Watch your intake of alcohol. Right before starting, set a limit on the total amount you are willing to gamble. No matter what happens, do not exceed it.
Decide what game (s) interest you and study the rules before you play. Observe the game for some time before you join in at a table. Take a break between sessions. And best is to get up when you are winning; a difficult thing to manage but that's the only way you can come out a winner.
Over 50 per cent of all visitors are men, mostly between the ages of 21 and 59. Some come to party, and many, particularly convention-goers, are lonely. Almost all have time and money on their hands. Where there is gambling, there is always easy money.
Las Vegas evolved as a gambling man's city, where just about anything could be had for a price. Some vestiges of it still remain. Most night shows feature topless showgirls and erotic dances. Lounge servers and keno renners are almost exclusively women, invariably attired in revealing outfits.
Just off The Strip are a number of adult entertainment night spots that offer total nudity. Yes, the totally nude girls are beautiful, young and plentiful, but you're served only non-alcoholic drinks at atrocious prices. Under Las Vegas regulations, a public establishment can offer either nudity or alcohol, not both.
Objectively speaking, Las Vegas is a great place for a family holiday. Food and lodging are a bargain, and there are an extraordinary number of things that the entire family can enjoy together. Only, persons under 21 are not allowed to gamble, nor are they allowed to hang around while you gamble.
Yet children of ten or older can spend hours at the MGM Grand Adventures Theme Park (MGM, the biggest hotel in the world) or at Slam Canyon theme park at Circus Circus. The white tigers, dolphins, and exploding volcano at the Mirage are big hits with kids, and so also the high-tech Past, Present, and Future at the Luxor. Circus Circus and Excalibur are actively seeking family trade with carnival games.
And families can make day visits to the Hoover Dam or take a raft trip on the Colorado River.
Where to stay in Las Vegas? Downtown hotels are cheaper and entail much less walking. On the Strip, the biggest cluster of hotels-casinos is in the middle. In one survey, Caesars Palace comes best in overall rating, followed by Mirage, MGM Grand, and Bally's. Venetian Hotel has all suites, and these are an excellent bargain.
Possibly the best buffet breakfast is offered at Caesar's but you may have to contend with a long queue. Golden Nugget is known for its buffet dinner being one of the best value for money.
Gambling Games
What kind of a customer gets the best deal in Las Vegas?
The person who takes advantage of all the incentives without gambling: cheap airline tickets; package tours with highly attractive hotel rates; cheap hotel-casino food, especially subsidised buffets; spectacular night shows; and a host of other almost free amusements.
The typical Vegas show will open with an elaborate production number featuring dancers, and often, topless showgirls. Variety acts continue with magic shows, acrobatic displays, and musical production numbers. As a rule the one-and-half-hour show closes with a spectacular finale showcasing the entire cast in some unimaginably colossal act, augmented by an impressive array of costuming, lighting, and special effects.
What kind of a customer gets the second best deal?
The customer who sees gambling as a recreation, gambles knowledgeably, makes sensible bets, sets limits on the amount he is prepared to wager, and enjoys all of the perks and amenities, but stays in control. The perks include free drinks at the table and 'comps' — the complimentary vouchers for food, drink, even free room, depending upon the stakes you play and for what period, as monitored by pit bosses.
What kind of customer gets the worst deal?
The person who thinks he can win. This person will foot the bill for everyone else.