THE TRIBUNE MAGAZINES
On Mondays


On Sundays

On Saturdays

IN PASSING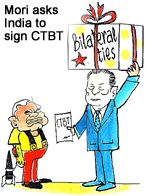 by Sandeep Joshi
Vajpayee in no hurry
Induction of new ministers
NEW DELHI, Aug 25 — The Prime Minister, Mr Atal Behari Vajpayee, will have to bridge the gaps in his jumbo Union Council of Ministers sooner than later even as low key lobbying by ministerial aspirants has begun.
BJP to decide on agenda at Nagpur
NEW DELHI, Aug 25 — The two-day meeting of the national council of the Bharatiya Janata Party, commencing from August 27 at Nagpur, will not only instal a Dalit Bangaru Laxman as the new president of the party but will also set the direction for the 20-year-old organisation.
SC: don't take rape cases lightly
Himachal HC order reversed
NEW DELHI, Aug 25 — A three-Judge Bench of the Supreme Court headed by Chief Justice A.S. Anand, while reversing a judgment of the Himachal Pradesh High Court which confirmed the acquittal of an accused in a rape case, has taken exception to the High Court and the Sessions Court, Chamba division, dealing with the case "so lightly".



Death is just a shell-burst away
SOMEWHERE IN THE NORTHERN SECTOR, Aug 25 — Rifleman Rajkumar stays some 3000 km away from his family, but seldom feels homesick. Posted barely 100 metres from the Line of Control (LoC), he has a job demanding both dedication and teamwork. He has a set of colleagues so intimately friendly with each other that the young jawan (name changed) has little time and still less the urge to think about home.
EARLIER STORIES
(links open in a new window)
10 Pakistani troops killed
August 25, 2000
Pak national, 5 others arrested
August 24, 2000
Oil depot damaged in Pak shelling
August 23, 2000
Don't use Army for internal security,
says General Malik
August 22, 2000
Militants kill 4 in Udhampur
August 21, 2000
Oil price hike may lead to clash
August 20, 2000
Militants massacre six villagers
August 19, 2000
3 Pak troops shot dead
August 18, 2000
18 hurt in Kashmir grenade blast
August 17, 2000

Stop proxy war, PM warns Pak
August 16, 2000

Growing intolerance worries Narayanan
August 15, 2000

5 jawans die in Udhampur blasts
August 14, 2000

Centre sounds red alert
August 13, 2000