Saturday, September 2, 2000,
Chandigarh, India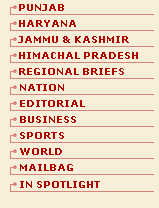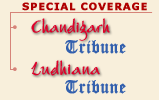 M A I N N E W S
Healing touch for prisoners
|From Ravi S. Singh
Tribune News Service
GURGAON, Sept 1 — There is cause for immense joy for Bimla Devi, an undertrial in the local district jail, as the judges led by the District and Sessions Judge, Mr Arvind Kumar Goel today personally supervised medical treatment given to her by a team of specialist doctors.
For her it was a matter of a joy as she had given up all hope of proper medical treatment during her stay in the jail. With treatment provided to her under the supervision of the district medical chief, Dr N.K. Jain, and the overall supervision of the District and Sessions Judge, her faith has been restored.
Bimla Devi is not the only inmate to be happy at the turn of events today. More than 200 out of the total 650 inmates in the district jail, suffering from various kinds of diseases, including infectious ones, are in the same frame of mind.
A health camp was organised for the first time in the jail at the express command of the District and Sessions Court. Specialists from the district hospital were requisitioned to visit the jail to diagnose the maladies of the inmates.
Rati Khan, a resident of Mewat, and an undertrial, told TNS during the camp that earlier when he used to visit the hospital many times the doctors were not available and he had to wait for several hours for their arrival. Sometimes he had to come back without meeting the doctors. This had engendered in him an inferiority complex and a negative attitude towards society at large. Alam Khan, a resident of Mathura in Uttar Pradesh, alleged that during his visits to the hospital the doctors concerned treated him as if he was not a human being. He was amazed to see the specialists treating him with "kid glove attitude, right in the jail complex". "This is possible because the District Sessions Judge was personally present to monitor the proceedings", he said.
In some cases, the inmates suffering from serious ailments, which could not be treated at the district hospital, were referred to the Rohtak Medical College and Hospital.