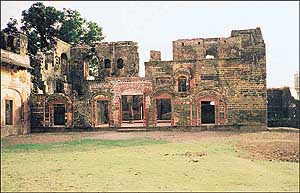 Built in the early 17th century, the Nurpur fort is situated on a hill top. Its main entry is from an entrance gate in the east, with polygonal bastions on its corners. The eastern portion of the fort has a temple raised over a platform and a high plinth. Its mouldings have strong bases. There are two circular walls, a big rectangular tank and a square building.
The western portion of the fort is divided into two parts. Each part has its own entrance doorway. Relics of the palaces are housed in the southern portion while the northern wing has vestiges of a small pillared hall with three arched openings. There is a pavilion with small chambers on either side.
There are traces of paintings on the walls of these antique palaces. These paintings are ascribed to Raja Jagat Singh who is believed to have brought the black stone image of Lord Krishna from Chittaurgarh between 1619-1623 AD. This antique image of Lord Krishna is still preserved in Brij Raj temple and is regularly visited and worshipped by tourists and pilgrims from far and wide. At one time there were paintings of Krishan Leela inside this temple which are now missing. Rajasthan art can be seen in the black stone used here. The lifelike image of Lord Krishna playing his flute is matchless in its beauty.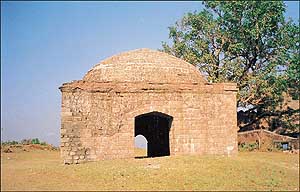 An ancient mosque, though ravaged by time, still stands here. The Archaeological Survey of India has now initiated efforts to save it. It reminds the visitor of the days when after her daily prayers, Noorjehan would bask in the sun. Adjoining this mosque is a government senior secondary school.
Towards the western side of this mosque, there stands a strong plinth of a ruined palace made of antique stones. Sculpted borders of this plinth have erotic and martial images, apart from images of lions reminding one of love and war in the olden days. Images of elephants overlook the Pathankot-Kangra highway.
Towards the southern end of this ruined palace is another portion of the palace which now stands roofless. The arches and masonry of this palace are unique when viewed from inside. Having a sturdy built, these structures which have been made without iron, say a lot about the skills of the masons of the ancient Kangra region and the materials used by them.
Nurpur fort is not only the last relic of the glorious past of Kangra, but it also reminds one of legendary dancer, Noori, whose name was an imitation of Noorjehan. Legend has it that she was more beautiful than even Noorjehan. Afraid that Noori's beauty would attract more fame than her own, Noorjehan did not allow Noori to venture outside the palace. Noorjehan liked Noori's sweet voice but envied her beauty. The sound of Noori's anklets would echo in the palace when she danced, keeping the people of the surrounding area spellbound.
Later, Noorjehan had Noori's tongue cut when she suspected that the latter had tried to seduce Jahangir. Thereafter, the Nurpur fort became deserted and its music was forever silenced. The fort stands deserted now, and only wild animals prowl here at night.