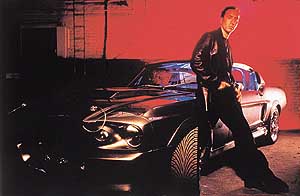 The reward for Memphis ó his brotherís life and 200,000 dollars. So in the best The Dirty Dozen tradition Memphis has to pick his team of car thieves. And what an assortment of characters they are? His old partner Atley Jackson (Will Patton) is the one who acquaints Memphis with his predicament. Then thereís Otto Halliwell (Robert Duval), a car thief who has come clean but believes in second chances. Thereís best friend Donny Astrieky (Chi McBride), muscleman the Sphinx (Vinnie Jones) and even his ex-girl- friend Sara Wayland (Angelina Jolie). Add to this Kitís gang of comparative greenhorns.
On Memphisís tail is Detective Roland Castlebeck (Delroy Lindo) who vows to get this master car thief, even though they are both automobile aficionados. May be the plot is wafer-thin but it is just an excuse to expose the viewer to a plethora of cars and the men who virtually drool on them. As for Memphis, whether it is a fuel-injected, high-performance, V-8, V-12, turbo-charged, loaded or stripped to the bare essentials, he knows and loves every nut and bolt and every gleaming piece of chrome.
Scriptwriter Scott Rosenberg does an excellent job, raising the automobile industry to dizzy heights and director Dominic Sena (no relative of the race-driver, we presume) virtually goes to town on cars. They are the stars of the film, shot caressingly by cinematographer Paul Cameron as well as in high speed for the action sequences. And Nicholas Cage is able to get under the skin of the car lover without much ado.
The supporting cast has little to do except for the villain Christopher Eccleston who makes himself thoroughly despicable. Robert Duval is somewhat restrained while Angelina Jolie is just wasted. To those who have seen her histrionic talent in Girl, Interrupted this is dumb part any bimbo could be cast in. But that apart, even if you arenít an automobile aficionado there is enough to keep you amused and gripped alternatively, for most of the time. And if you are a car-lover, what more do you want?
The same, however, cannot be said about Screwed, which is far too slapstick and corny or plain simplistic and it takes only a few minutes into the film to realise it is a gonner. Not even the off-beat title (which you can scarcely say aloud in polite company) is able to give it a boost. On the contrary, it seems to be addressed to the viewer.
Take a cantankerous boss of a department store Miss Crock (Elaine Stritch) and make her abhorred by her employees, especially nit-wit chauffeur Willard Filmore (Norm Macdonald) who, along with bumbling friend Rusty (Daniel Benzali), devise a foolproof plan of revenge by kidnapping the nasty womanís prized pooch. But, when the dog escapes and returns to the owner and she sees the photograph of her chauffeur in the newspapers she thinks (but canít she read?) that it is the chauffeur who is kidnapped.
What takes place is anything but funny. Directors Scott Alexander and Larry Karaszweski who did so well in The People vs Larry Flint are all at sea in the comic mould. They rely too hard on the hero Macdonald who may be a big Canadian TV star but isnít able to hold the film together. Elaine Stritch is at best passable but Daniel Banzali (seen in Dr Doolittle) is some consolation. As for natural comedian Danny De Vito, he has a minor role as a creepy mortician hiding behind much disguise. May be giving him more scope would have lessened the tedium but I doubt if even De Vito could salvage such a terrible film.