Two of a kind
The two people with a royal lineage in filmdom are Saif Ali Khan (son of Nawab of Pataudi and Sharmila Tagore). Mansur Ali Khan was the scion of the erstwhile Bhopal estate which had the unique distinction of having some of the strongest Begums (women) in Indian history. His father was a Nawab and an ace cricket player. For this family, heritage, class, tehzeeb and education were not mere words, they were an integral part of life. Schooling and education in England was mandatory for members of the royal family. Saif's mother, Sharmila Tagore, too has an illustrious lineage. She comes from the revered family of Rabindranath Tagore.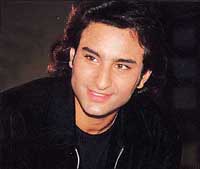 Saif's wife, Amrita, also traces her family tree to a princely state. She is the grand-niece of Khushwant Singh, the eminent writer and journalist. Her mother was Rukhsana Sultana and her father is Shivinder Singh, who lives Chandigarh. Two such people have surprisingly taken to a plebeian art form like films, just as ducks take to water.They do not have any false airs and do not bandy about their royal lineage for the others' consumption.They have proved the naysayers, who had not given their marriage any chance, wrong . Amrita, though many years senior to Saif, has adjusted remarkably well in marriage (they have been married seven years).
Amrita says she is happy not working as she had already worked enough. She and Saif are fully engrossed in their five-year-old daughter Sara. "My daughter is very possessive about her father," says Amrita.
They love Bombay and the film line. Saif is at last getting recognition that is due to him. In Kya Kehna, he was really appreciated in spite of the negative tilt to his character. He has no hassles working in movies where there are two heroes. To his credit, even while working with the best, he refuses to allow himself to be overshadowed. His forthcoming movies are Dil Chahta Hai, Na Tum Jano Na Hum. He is working with Aamir Khan, Farhaan, Akshaye Khanna, Hrithik Roshan and is ready to break the chocolate-hero mould.
"We both are satisfied with our lot, and do not want to be part of the cut-throat competition", the better half of Saif says cheerfully.
Perfect bureaucrat
Can there be someone like a perfect bureaucrat? As things stand, most people will say 'nothing doing'. However, even in bureaucratic circles there are people who come quite close answering this description. M.C. Gupta, a 1960 batch officer, almost fits the bill. After retirement, he was made Director of the prestigious Indian Institute of Public Administration, New Delhi. He has had a distinguished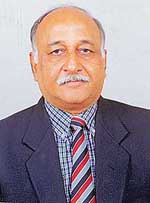 career in the services and feels that there is nothing like a perfect bureaucrat (creature). He say, "Ican only list the attributes of an ideal public servant. He is someone who is a sensitive to the problems of the people and to the policies and programmes of the political government. The 'perfect' bureaucrat must possess financial and intellectual integrity. Also important is a capacity to get along with people". Not a tall order, or is it?
M.C. Gupta has just come out with a book on Haryana, alongwith L.C. Gupta (retired IAS). The book traces the historical development of Haryana from the early 19th Century onwards.It deals with the socio-economic development of the state and the reasons for the rapid rise of agriculture production. The need for a better industrial infrastructure and an investor-friendly approach is highlighted. The book is very comprehensive and deals with the power-sector, education and health services. Both have worked hard to give a detailed and a fair account with facts and figures to substantiate their analysis. But the book has not been yet labelled as an official document. Here is one ex-bureaucrat who is still working and sharing his vast experiences in public life with those who are interested in better governance.
— Belu Maheshwari