Karnataka sticks to stand on Veerappan
BANGALORE, Sept 4 — After a cabinet meeting and parleys with the Opposition, the Karnataka Government today ruled out a change in its strategy for resolving the Rajkumar hostage crisis or seeking central help, saying that the issue had reached a "decisive" stage.
THE TRIBUNE MAGAZINES
On Mondays


On Sundays

On Saturdays

IN PASSING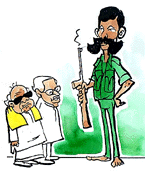 One more demand. Give me a national award on Teachers' Day!
by Sandeep Joshi
Govt to sell stand alone refineries
NEW DELHI, Sept 4 — The Union Cabinet today decided to restructure four stand alone refineries and revive viable National Textile Mills while closing down the unviable ones. There are 119 NTC mills in the country which employ around 87,000 employees. The Cabinet decided that it would implement an attractive voluntary retirement scheme for employees of the sick units.

Dhindsa's son SAD nominee
CHANDIGARH, Sept 4 — Mr Parminder Singh Dhindsa, general secretary of the youth wing of the Shiromani Akali Dal headed by Mr Parkash Singh Badal, will be the SAD's candidate for the Sunam byelection. This was announced here today by Mr Badal following approval of the name of Mr Parminder Singh for the party ticket by the Political Affairs Committee of the SAD.
WTO: Punjab faces the heat
CHANDIGARH, Sept 4 — With the implementation of the first phase of the World Trade Organisation regime in the country, Punjab has started facing the heat. This was admitted today by the Punjab Government. Foodgrains, which was a major weapon in Punjab's armoury to use as political clout at the national level, has become a liability as well as a problem for the state.
EARLIER STORIES
(links opens in a new window)
Minister's kin dies in lock-up
September 4, 2000
Three ultras, JCO killed in encounter
September 3, 2000
Consensus eludes ISC on residuary powers
September 2, 2000
Freeze on Assembly, Lok Sabha seats till 2026
September 1, 2000
PM announces sops for small units
August 31, 2000
CCEA hikes MSP for foodgrains, seeds
August 30, 2000
Don't cross 'Laxman rekha': Bangaru
August 29, 2000
BJP not diluting identity: Laxman
August 28, 2000
Temple, civil code no more issues
August 27, 2000
India treads neutral path
August 26, 2000
10 Pakistani troops killed
August 25, 2000