Telecom strike called off
NEW DELHI, Sept 8 — More than three lakh striking workers of telecom unions called off their stir late tonight as Communications Minister Ram Vilas Paswan agreed to their demands.
Supplies to troops disrupted
SHIMLA, Sept 8 — The winter supplies for troops deployed in forward areas bordering Chinese-occupied Tibet have been disrupted because of extensive damage to the Hindustan-Tibet highway in the recent flashfloods.
THE TRIBUNE MAGAZINES
On Mondays


On Sundays

On Saturdays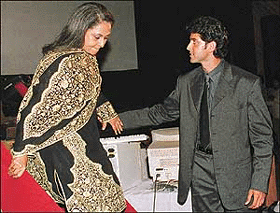 Bollywood heartthrob Hrithik Roshan extends a helping hand to actress Jaya, wife of superstar Amitabh Bachchan, at the launch of Roshan's latest film "Fiza" in Mumbai on Thursday. — Reuters photo


Jadeja re-examined by CBI
NEW DELHI, Sept 8 — The CBI is likely to submit its interim report on match-fixing to the Sports Ministry on September 29 after having questioned cricketing icon Kapil Dev and re-examined Ajay Jadeja.
Concern for Khalra man
AMRITSAR, Sept 8 — The Khalra Mission Committee (KMC) today claimed that Amnesty International had taken notice of its press release dated September 7, 2000 about the arrest of Mr Rajiv Singh Randhawa, a human rights activist.


One hospital employs, another pays
AMRITSAR, Sept 8 — In gross violation of the manual of the Employees State Insurance Corporation (ESI) medical, the Punjab Government has ordered that the salaries of as many as 89 doctors be drawn from places where they are not working.
EARLIER STORIES
(links opens in a new window)
Paddy purchase from Sept 21
September 8, 2000
Telecom strike hits services
September 7, 2000
Minor daughters of officials molested
September 6, 2000
Indo-UK pact on terrorism
September 5, 2000
Minister's kin dies in lock-up
September 4, 2000
Three ultras, JCO killed in encounter
September 3, 2000
Consensus eludes ISC on residuary powers
September 2, 2000
Freeze on Assembly, Lok Sabha seats till 2026
September 1, 2000
PM announces sops for small units
August 31, 2000
CCEA hikes MSP for foodgrains, seeds
August 30, 2000