This was a turning point for her. She immersed herself in learning Odissi dance and soon picked up its techniques under her guruís guidance. Side by side, Sharon also studied the Chhau dance of Mayurbhanj from the late Guru Krushna Chandra Naik. Sharon performed in Baripada in 1978, proving her guruís claim that women could also perform this dance, then considered to be a male-domain. She also got the credit of being the first woman and solo artiste to perform Chhau in the Asian Dance Festival held in Hawaii in 1978. She also performed Odissi dance in the Festival of India in the USA in 1985. Here she was accompanied by her guru, Kelucharan Mahapatra, and was sponsored the Government of Indiaís Council for Cultural Relations.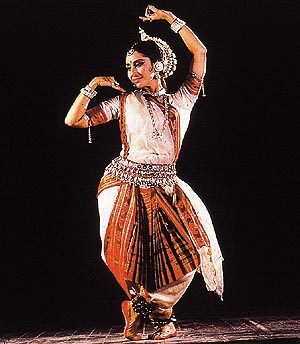 Born and brought up in a progressive family, Sharon developed a taste in dance, music, theatre and puppetry during her childhood. She watched various performing arts from all over the world and kept herself engaged in one curricular activity or the other. She was admitted to a special high school, where she studied fine arts, science, philosophy and journalism.
Sharon was actively involved in politics on her campus and was the first student governor of "Students for Democratic Party". Sharon, however, did not pursue politics as a career. Now her dislike for politics is so strong that she wants to keep MANSAó her Centre for Arts Without Frontiers in Delhió away from politics of all kind.
Wedded to her dance, Sharon postponed her marriage by two years to her boyfriend, Tom Ault. She married in 1975 in the USA. By that time, she had an offer from American School in Delhi as a coordinator of cultural programmes. This gave an opportunity to Sharon to stay in India and learn more about Odissi dance. This time Sharon and her husband were in India for three years. Her husband, a professor in theatre, came on scholarship to India.
While leaving for America in 1978, Sharon took along with her recorded music cassettes so that she could practise her dance without the participation of musicians. Till 1981, she taught Manipuri dance and Odissi to westerners in California. Besides teaching, she held 200 lectures-cum-demonstrations in schools in Los Angles. She popularised Indian dances in North America. Her parents were delighted by her stay in the USA. Though her mother wanted her to become a lawyer, she extended full support to her when she chose to take up dancing. "But for my motherís support, I would have not earned name and fame", Sharon admits. Her brother, Robert, a doctor by profession, was of the opinion that Sharonís work would not be acknowledge unless it was written about in The New York Times. That too happened. The New York Times and other US newspapers carried Sharonís interview. Sharon says
she managed to gain recognition in her country even though her countrymen are not appreciative of an American performing Indian dances. Sharon succeeded in getting the American Institute of Indian Studies Scholarship and returned to India. This time she was extremely happy. She stopped her dance practice only two days before her delivery on December 26, 1981, and after two months began to perform again. Her daughter, Tara Lowen, studying in Delhi, too, has an artistic bent of mind. She likes to take part in theatre and has keen interest in poetry.
Sharon concentrated on abhinaya, which is now her forte. She also learnt Geet Govinda and other Odissi styles. Sharon practises for a couple of hours every day, while for special productions she puts in at least eight hours a day. Besides this strenuous routine, Sharon practises yoga daily and visits the gym three to four times a week to keep herself physically and mentally fit.
About the difference between Indian classical dances and western classical dances, Sharon says, "Indian classical dances have a text and are more elaborate, whereas western classical dances have a theme or story. Also western dances are more about elevation like jumping from floors, whereas Indian classical dances are connected to earth. Indian dances are rooted in spiritual tradition. Western dances too have depth as they have evolved from court tradition, but they have developed only to the extent of being a source of entertainment."
Making a place for herself in the field of Indian classical dancing was certainly an uphill task for this American. She says she took a great risk choosing an off-beat career. " I am lucky that the risk and the dedication of so many years has paid off," she remarks. Sharon received the Acharya Narendra Dev Sarokar Samajic Samman in 1991 and the Sahitya Kala Parishadís Samman in 1992. On July 18 this year, she received the Kala Shrestha Samman in Delhi.
Sharon has no regrets of living in India, which she considers as her second home. " If Iím welcomed here then this is my home. If Iím not, Iíll have to go", she says. She doesnít miss her family members at all. Her mother spends five to six months every year with her in India in a rented room. The room, which is on top floor, speaks volumes of Sharonís interests. It is packed with books and trophies. Her huge terrace is beautifully decorated with plants. Sharon likes to call her house "a small farmhouse in a city".
Does she feel that she is now an accomplished artiste? "No"í she says, "I have just collected a few drops from the ocean and am trying to get a few more drops."