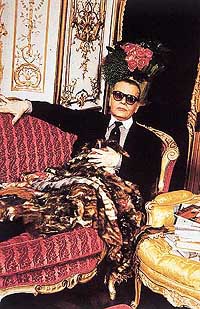 The older Lagerfeld had a business in powdered milk, and given a chance, would have loved to live on a farm, and rear cows. He decided instead to buy a beautiful country estate on the Danish border, which fortunately turned out to be a wise decision as it became their refuge during the war. Life for the Lagerfelds during the war years was far easier than for most. Spoilt as he was, Karl's indulgent parents allowed him to do what he wanted, as long as he kept up with his school lessons. He made the most of the opportunity to sketch and read, laying the foundation of a life in fashion, and a passion for reading that has been with him all his life.
A precocious child, Karl learnt to dictate his preferences at a very young age. At the age of three, he demanded and got an outfit of black suede with gold embroidery, and at six insisted on having a French governess. His adoring parents, indulged him, as always.
Karl was always interested in costumes, and began criticising what people wore from a very young age — he was always completely sure of what he himself wanted to wear. His ideas of fashion were naturally based on the clothes that his mother and half-sisters wore. He was fascinated by pre-war fashions, and loved the photographs taken of his mother in the 1920s, including the one of her in her wedding gown. This gown designed by 'Vionnet', a famous couturier of the time, is now preserved in a museum. His mother hated the post-war 'new look', or even the very short skirts, that came in some years later, and took to wearing pants instead.
With this background, Lagerfeld could not possibly have grown up to be ordinary. The figure that is so familiar in photographs, and one that the whole fashion world looks up to is distinctive in its classic simplicity. The head is square, the grey hair pulled back in a ponytail and the eyes always shaded behind dark glasses. The wide shoulders are in the unvarying black suit made in Japan, worn with a very white shirt discreetly pleated, and a plain black tie embellished by a small cameo pin.
The fashion guru's Spring '93 and Autumn '92 Collections
This celebrated couturier designs a number of collections every year, season after season. There have been innumerable spectacular collections for the House of Chanel. Then there were the romantic and unforgettable Chloe collections that were discontinued and later revived by him, and many others. There are also his own lines, which bear his own name and label, and his distinctive stamp. No matter what the show or the label, Lagerfelds creations are always unlike those of any other designer. His designs can be counted on to set trends in cut and style — and more importantly of mood and ambience!
This giant who has been striding through the fashion world for years, owns seven houses in four countries but his favourite one is in Paris. One of the grandest houses in Paris, Hotel Soyecourt, which he bought a decade ago, has a history of hospitality that goes back almost three hundred years. Built in 1706, it required a considerable effort, and more than two years for Lagerfeld to repair the house to his satisfaction.
With his innate design and colour sense, Karl is prepared to make any effort required to get what he wants. When he acquired his Paris residence, he discovered that parts of the ceiling were covered with a thick layer of dirt. This was carefully cleaned to expose the gilding underneath. The Grand Salon, for instance, has a ceiling gilded in leaf gold, unlike the usual gold-painted ceilings, popular at the time.
True to his masterly sense of colour, he chose to decorate it in an unusual combination of clear yellow and light majenta. These colours exactly match the stupendous Savonnarie carpet, originally made for one of the rooms at the Palace of Versailles, which Lagerfeld discovered in the chateau of a collector. After having it washed with ordinary household soap, it now occupies the focal point in the room. A room that reflects the fine aesthetic taste of Karl Lagerfeld — the man responsible for clothing some of the world's most powerful and beautiful women — the undisputed 'Guru of Fashion'.