These days Narain is in England testing for the races starting this month and also preparing for World Cup coming up in Macau in November. Car racing is big business, a marketable commodity and not just a simple sport. Narain's biggest bane used to be sponsors, but this year at least he is financially comfortable and has more than 10 sponsors. To manage the business side of the sport, he has a full-time manager. Contacting Narain is not difficult. He responds quickly on E-mail. "Life is tough not only on the race track but off it also. We need sponsors and have to make appearances for them," says the racing driver Jerry Convey, who takes care of his fitness and is his full- time personal trainer. Concentration and physical fitness is the key to success in the sport for which he does weights, exercises and jogging.
Karthikeyan says he has cultivated a mental toughness and believes, "You have to be really aggressive like Michael Schumacher to achieve success in racing." He feels India should encourage the sport as it can enable the country to earn millions of dollars in foreign exchange if an F1 event is staged here. "For Indians to get interested in the sport, we need more visibility, more coverage and training abroad," he says.
Narain is an MBAfrom London and takes a keen interest in wildlife photography, tennis (Boris Becker is his hero) trap and skeet shooting and aero-modelling. His biggest asset is his temperament. He has eagle-eyes, an asset in a sport in which at 200 kmph on a bend even a minor misjudgment can cost the driver dearly.
Anjolie at 60
The diva of painting turned 60 some months back. However, she shows no signs of age and is still raring to go and pack in as much as possible in a day.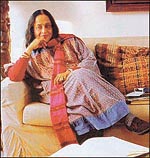 According to her, her muse evolved in four phases. The first phase had all the vigour and brashness of youth. At that times she did not bother about technique and painted what she felt like. After her formal training in art at Paris, she started using thinner paint and her technique improved. Later, she dabbled in water colours but it was really not her medium. In that phase, she started reflecting more on the predicament of women in India. Now her work reflects a feminine sensibility. Anjolie says, "Though I paint women, I do not identify with the oppressed Indian women. I have had the best opportunities and freedom in life".
She studied in Lawrence School, Lovedale, and then went on to study at J.J. School of Arts, Bombay. In the 60s, she went to Paris. The main influences on her work are those of Amrita Shergil, M.F. Hussain and Mohan Sawant.
She married Raja, who worked in the Indian Navy, and she moved along with him throughout the country. She held her first exhibition in 1950s but she sold her painting even while she was in school. She has held more than 25 solo exhibitions, and her work fetched Rs 8.34 lakh at a London auction. Anjolie is slated to hold exhibitions in New York and Beijing. She has also been nominated to the Board of Trustees, Indira Gandhi National Centre for Arts, where she aims to build up a collection and make the activities of the centre more participatory. Anjolie says that she is basically a loner, a melancholic person. Even when she is amongst people, she is a little detached, finding a secret space for herself which is away from the crowd.
Hockey's Boris Becker
Dhanraj Pillay is the pride and joy of our hockey squad which left for the Sydney Olympics recently. Born in Pune on July 16, 1968, he hails from an ordinary background (his parents are Tamil, he grew up with three elder brothers in a jhopadpati). His education is incomplete, but as a hockey player he is outstanding. His technique is admired even by his opponents worldwide and he is rated as one of the best forwards. In fact, it was Dhanraj Pillay who gave India its first hockey gold in 32 years at Bangkok in 1998. He has been awarded the Arjuna Award and the Rajiv Gandhi Khel Ratna award.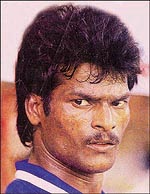 Dhanraj Pillay, with his trademark ponytail, is the superstar who can boast of an entire advertisement campaign based on him This used to be the prerogative of cricketers only. He is a brash, confident and outspoken. He is also easily excitable. People who deal with him say his biggest problem is his erratic temperament. He has been involved in many a fracas not only with IHC officials but even with spectators. No doubt, he is called the Boris Becker of Mumbai by the members of his league in Germany. His fitness level can be gauged from the fact that he clocked 11 seconds in the 100m dash at Bangalore.
Though he has cosiderably toned down his anger, he cannot help speaking out his mind. An official, who has observed him closely, feels that Dhanraj is gifted, and these Olympics are important to him. If he keeps cool, Dhanraj will be India's pride as he and his team mates keep a date with destiny, come October.
— Belu Maheshwari