This unique building took 14 years to build at a cost of $ 102 million and is a premier attraction for millions of tourists every year.
Sydney offers other exciting prospects. There are art galleries, exotic restaurants, live theatres, nightclubs, symphony, jazz and rock concerts, along with discos and sporting clubs.
Circular Quay is lively place with plenty to interest the visitor from street theatre to sidewalk cafes and restaurants serving a tempting array of food.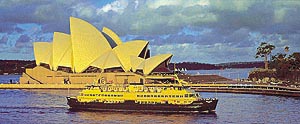 The Rocks is a compact area of Sydney Cove, the birthplace of Sydney. Now carefully restored, it is full of fascinating relics and buildings of the city's past. Campbell's store-house is still partly in use as warehouses, but is now also occupied by restaurants, shops and wine bars.
Cadman's Cottage is Sydney's oldest dwelling (1816). It was built for the Governor's boat crew and occupied by John Cadman, it is now a maritime museum. The Argyle Centre is hewn from solid rock. It was started by convicts using hand tools and completed by free labour.
Sydney Tower is a marvel. Cylindrical 305m tower is the Centrepoint complex. It is the tallest building in Australia and a focal point for city business and retail trade. It was completed in 1981. The nine-storey building has shopping complexes, office blocks, convention centres, restaurants and observation decks. The turret at the top of the slender stem has nine levels, four open to the public.
Hyde Park Barracks, the elegant building of sandstone bricks was built to house Sydney's convicts. It has been impressively restored to become the only museum of social history in New South Wales.
After its successful bid to host the 2000 Olympics, Sydney was in full swing preparing for this momentous event. Sydney's facilities, commitment to the athletes and natural beauty were deciding factors in being chosen as host city.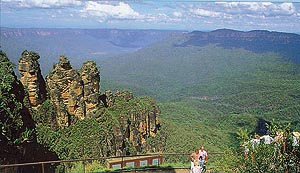 Visitors to the games will be well catered for with first class accommodation and a public transport system second to none.
Athletes will have a village providing all their needs, along with the spring climate, which promises perfect conditions to achieve peak performance.
Queen Victoria Building occupies an entire city block. This unique retail complex features beautiful stained glass wheel-arched window, a timber shop front and a cathedral stained glass inner dome, all of which recapture the beauty of the Victorian era.
The Royal Botanical Gardens. This is where the first settlers grew their vegetables. Today the gardens feature a pyramid shaped herbarium and an excellent collection of trees, shrubs and flower beds.
King's Cross, famous for its nightclubs and bars, is crowned by the beautiful El Alamein Fountain. The Sydney Entertainment Centre is Australia's premier indoor venue with a constant process of concerts, sports and extravaganzas.
Port Jackson has been claimed as the world's most beautiful deep water harbour and has a shoreline of 244 km covering an area of 54 sq. km. Dotted with magnificent beaches, it is renowned for its excellent sailing conditions and facilities, offering equal opportunities to professionals and amateurs alike.
The Harbour also makes a glorious setting for the famous Sydney to Hobart "Blue Water Classic" and the sight of the Ferry Boat Race held every January as part of the Sydney Festival.
The area is particularly well known for its restaurants and the Watson's Hotel is one of Sydney's more famous watering holes.
Sydney Aquarium numbs imagination. Over 5,000 fish are displayed here in a wide variety of habitats including two massive floating oceanariums, 21 major and 29 smaller acquarium tanks.
Unique to the aquarium are five microaquariums which are high technology, interactive exhibits that use magnifying cameras (on robotic arms) to display small marine specimens. One giant floating oceanarium features marine life from Sydney Harbour and the other is home to sharks, stringrays and other species from the open ocean.
Darling Harbour was originally called Cockle Bay. Governor Darling gave the harbour its current name in 1826. The harbour remained Australia's busiest port until the 1960's. In 1984 the State Government announced re-development plans, the result of which we see today, including the award-winning design of the Exhibition Centre and the Harbourside Festival Market place.