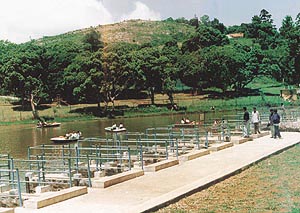 Yercaud is an anglicised name for Yeri Kadu which in Tamil means forest-lake. Yes a lake is very much there and it greets visitors soon after they enter the municipal limits of the town. It has been given a good face-lift, and it how has a boat-club, a restaurant, a protective-wall, a garden and a shaded vista which girdles around the water-front. The Tamil Nadu Tourism Development Corporation (TNTDC) has built a beautiful hotel complex — overlooking the lake — which is the best place to stay at Yercaud. Those who like to go in for time-share system can think of Sterling Resorts but that is located farther up the town.
The majority of visitors who like to be on their own can conveniently reach Yercaud by taxis or buses from the Salem bus stand. The Ghat Road to Yercaud has the rare distinction of having 20 hair-pin bends on its short stretch of 25 kms. This provides breath-taking views of Salem valley from different elevations constantly.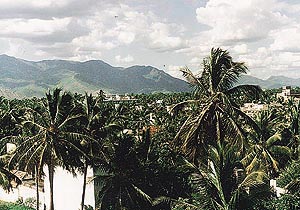 Another unique distinction which the Shevroy Hills have acquired is the recent discovery of stone-age implements from the ancient shrine located near the Pagoda Point, which is about 5 kms. From the Yercaud lake. These implements include axes and hammers of that age. It will be interesting to note that nearly 80 per cent of the hill-folks are Adivasis who live in 67 hamlets scattered over an area of 383 sq kms of Shevroy Hills. Every Sunday, you can see them in their traditional clothes when they bring their fruits and vegetables to the weekly "Shandy". That's also the place to buy spices from them, and since we are talking about shopping, you should not forget to buy your stainless steel wares from Salem, since it is known for its steel plant. It is an exhilarating experience to be among the crowd here and enjoy hot coffee prepared from the freshly roasted beans and idli-dosas from the cartwallahs.
As we have said that this hill-station is a quaint little plantation town, it means all the important sight-seeing places are located within 7 kms from the lake. Although local taxis can reach you everywhere, you could walk through the plantations, or take the roads and see the botanical gardens, the kiliyur water-falls (rainy season only), Pagoda Point, Bear Cave and the Telescope House from where you can have a view of the Mettur Dam. For the adventure-loving youngsters, trekking and rock climbing is a nice option.
Last but not the least, unlike other hillstations, this plantation town never gets over-crowded. Even in the peak-season, there's enough room for every one.
Reaching Yercaud
It's easily approachable from Bangalore or Chennai. Salem is well-connected by an airport, a railway station and a big Bus-station. Phone calls from Salem to Yercaud are at the local rates.