Tuesday, September 19, 2000,
Chandigarh, India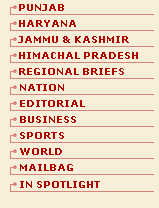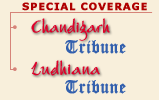 M A I N N E W S
Amritsar Mayor's effigy burnt
Tribune News Service
AMRITSAR, Sept 18 — An effigy of Mr Subhash Sharma, Mayor of the municipal corporation, who was expelled from the BJP for six years, was burnt in front of Hall Bazar by hundreds of workers belonging to the CPM.
The CPM workers led by Mr Kishan Singh, Dr Om Parkash Bairagi, Mr Kishan Chand, Mr Hardev Singh, Mr M.C. Shoor, Mr Tarsem Singh Bhola and Mr Sushil Kumar were demanding the immediate resignation of the Mayor in wake of allegations of moral turpitude.
Addressing the rally, they said if Mr Sharma failed to tender his resignation traffic would be blocked every week in Amritsar. They also criticised Mr Om Parkash Kalia, district chief of the BJP, for his alleged "doublespeak" with regard to the Mayor episode.
Meanwhile, sources said the expulsion of Mr Sharma may have fallout on the BJP in the Municipal Corporation. Hectic activity has been going on after the expulsion of Mr Sharma. The permutations and combinations in the civic body could present some interesting results in the coming days.
Mr Amarjit Singh Asal, CPI leader, in a statement said his party would support the no-confidence motion against Mr Sharma. He also sought immediate resignation of Mr Sharma as Mayor.
Meanwhile, a high-level meeting of the BJP held here today unanimously endorsed the expulsion of Mr Subhash Sharma from the party for six years. Apart from municipal councillors belonging to the BJP senior party leaders, including Mr Daya Singh Sodhi, a former party president, Mr Baxi Ram Arora, Chairman of the Improvement Trust, Mr Om Parkash Kalia, president of the local unit of BJP, Mr Tarun Chug, Mr Avinash Jaiswal, organising secretary of the state BJP Mr Sat Pal Mahajan, Chairman of the Water Supply and Sewerage Board and Mr Hans Raj Gulati attended the meeting. The press note issued here this evening claimed as many as 26 councillors belonging to the party also attended the meeting and endorsed the expulsion of Mr Subhash Sharma for six years.