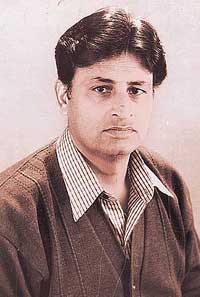 Popularly known as the "Apple Motivator", Thakurís works to basically improve the quality and size of fruits and vegetables. The results are specially remarkable in the case of apples.
But how did Thakur become an "Apple Motivator"? "I belong to a royal family of Rajasthan which lived in the Raigarh Killa area. It later settled in Chandigarh. I am simply an Arts graduate. My father, the late Hiralal Thakur, was in the insecticide trade and he had his own unit. But, unfortunately, he died in a car accident in 1984. Hence, in 1985, I decided to set up my own insecticide unit. The main reason for selecting this trade was my love for fruits, specially apples, right since my childhood . I came to Solan and set up a small insecticide unit and by Godís grace I could carry out some major breakthroughs. I cannot believe that a simple graduate like I could manufacture and invent micronutrients."
Thakur has set up his own research laboratory. He has purchased a few acres of land in Pab village, Sirmour district, and is constantly doing research on various diseases. One of his theories is that the apple crop requires an average of 600-1200 chilling hours for bearing a good produce. But usually there is a gap of few hundred chilling hours. According to him, water can be lifted from local khuds and nullahs to provide for the loss of chilling hours.
Thakur is a multifaceted personality. He is a keen traveller. On an average, he travels a few thousand kilometres every month. He also maintains a tour diary. Every Monday and Tuesday, he claims, he visits the interiors of Sirmour and Shimla districts; on Wednesdays and Thursdays, he is in the Kulu-Manali belt. Fridays and Saturdays are spent in his "dream-holiday-spot" Chandigarh. In Chandigarh, he has to visit Sector 17 and the Rock Garden. " I get all my ideas there," he says.