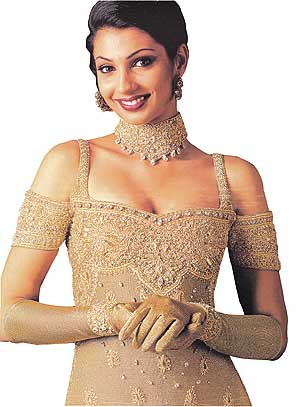 Then thereís Miu Miuís gathered skirts with pashmina-tasselled hems and Tom Fordís saree sequins scattered over faded denim jeans. "It is just that we havenít patented Indian fashion like basmati rice,"reflects Suneet Varma, whose designs are featured in the latest issue of Vogue.
"Fashion cannot be patented," counters Ramesh Nair, who has worked with Italian couturier Maurizio Galante. "India is just an element, an inspiration. Take zardozi (gold thread embroidery), for example. We claim it is ours, but it is actually the result of Persian influence."
Agrees David Abraham, who has trained in the USA, "India acts as a wide design resource, allowing people to borrow at will. Moreover, the labour and raw material are inexpensive. If Indian designers start retailing abroad, theyíll be able to reap more benefits".
Some designers like Sandeep Khosla and Abu Jani have started, though in a small way. The duo dressed Dame Judi Dench and Lady Hemmings at the last Oscar ceremony ó one presented the trophy and the other received it.
They can, however, still be considered as exceptions since established international designers have, by and large, promoted Indian fashion. For instance, Paul Smith has been using the traditional saree as a sarong, while Dries Van Noten is dressing up stars such as Julianne Moore in hot orange salwar-kameezes ó only that they call it tunic and pants.
The kaftan, for example, may be the quintessential Indian nightie, but only a Paul Smith can make it in velvet with Indian hand-embroidery for it to be noticed.
Observes Vogue Features Editor Justine Picardie about the Indian look: "Itís everything Indian these days. Be it the rainbow-coloured crystal bracelets, red pompom sandals or the Indian slippers with little bells. Theyíve left the pale grey heaps behind. In fact, I wonder how the English women will survive if not wrapped in hot pink sarees and golden scarves".
Not surprisingly, Mathew Williamson can often be spotted scouring the streets of Delhi and Jaipur, looking for ideas. Similarly, London-based fashion journalist-turned-designer, Sarah King frequently visits Lucknow to "source white cotton, dye it, get embroidery done and get them made into slip dresses, camisoles and cropped kurtas" for her store in London, called Whistles.
Why donít Indian designers take cue? "Who wants to take creative risks?" replies designer Rohini Kholsa. "If the market responds to only wedding collections, youíll sell only that"! (MF)


Oriental Attractions
* Jhumkas: These traditional Indian danglers are being hailed as chandelier jewellery. Karim Mulji is calling them cascades and sells them at $ 1,780 a pair.
* Balas: These huge gold amulets, with matching ring and bracelets are the latest craze among film stars after Cate Blanchett wore them to the Oscars last year. Obviously, it had something to do with her role in Shekhar Kapurís Elizabeth.
* Jootis: While embroidered slip-ons are being given high heels by Frette, flip-flops designed by Sanuk have become part of beach wear.
* Sequins: Sequins are everywhere ó from clothes and scarves to hats, belts and even bags.
* Bindi: Nobody has internationalised the Indian dot on the forehead as well as Madonna. At the MTV awards function in 1988, she was dressed like Lord Shiva, right up to the "third eye"!