Gloria Estefan — Alma Caribena (Sony Music)«««
Gloria needs no introduction. Today, Latin pop might have become hotter with energetic artists like Ricky Martin, Enrique Iglesias and Jennifer Lopez, but actually they are just doing what Gloria did a few years ago. Latin pop emerged globally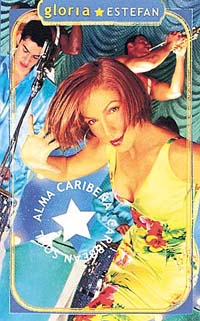 two decades ago when Gloria Estefan — the original 'Congo Queen' — made her debut with the Miami Sound Machine. So it seems fitting that Gloria Estefan has returned to her roots. Alma Caribena is surely Gloria's most uncompromisingly Latin offering since 1995's Abriendo Puertos. Backed by some big names — Jose Feliciano, Papa Lucca, Cella Cruz, Rene Toledo, Yomo Toro, Ed Calle and Emillo Estefan — the Latin star throws herself into a tempo of Brazilian, Columbian and Dominican flavours. Gloria opens with rollicking accordion No me Dejes De Querer. Nuestra Felicidad is a blast of merengue. Solo Por Tu Amor makes for a classy dose of pop-bolero with delightful accordion of Egidio Cuadrado (of Carlos Vives fame). Punto De Referencia is a love ballad set amongst acoustic strings. Tengo Que Decirte is a splendid duet where Gloria joins Jose Feliciano.
This is real Latin pop.
Creed — Human Clay (Sony Music)«««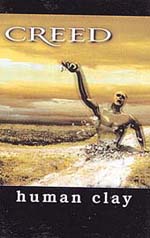 Creed won instant recognition with its first release My Own Prison, for its progressive sound infused with the classic rock traditions of Led Zeppelin, and the grinding resonance of Rush, building a modern sound on a tradition rock n' roll foundation. In Human Clay, Trimonti manages to find a balance between rhythm section and unleashed riffs. Scott Stapp's vocals do not kill the originality of the band in any way. Creed's coming of age has spelt a rather frustrating swing to the mainstream world of straight heavy metal. The epic Are You Ready? is the opener that sets the standard for raw guitar solos that dominate the album. With Arms Wide Open is a surprise ballad with a beautiful melody. Other tracks worth listening to are What if, Wrong Way, Faceless Man, Wash Away Those Years and Young Grow Old.
Duke Ellington & His Orchestra — Take The 'A' Train & Other Hits (Warner Music)««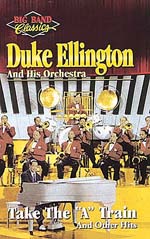 Duke Ellington is surely the most frequently re-released and re-compiled musician in the history of popular music. This latest collection from Patrick Milligan and Mark Pinkus finds Duke Ellington and his 30's band playing in and with the conventions of the swing era, working through characteristically lush ingenious textures. The compilation opens with the delightful title track Take The 'A' Train. For the set herein, Duke Ellington took his band back to the blues, reconnecting with the most varied source of emotional power behind most worthwhile 20th century popular music. It's a brilliant brooding compilation with notable masterpieces like Crosstown, Passion Flower, Just Squeeze Me (But Don't Tease me) and Transbluency.
An enjoyable, swinging session.
Album of the month
The Verve — Urban Hymns (Virgin Records)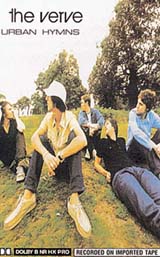 It took two albums for Richard Ashcroft to erase the word 'Mad' before his name, as the critics chose to dub him way back in 1993. And it took us all this time to wait for the splendid album to hit the Indian music stores. The album is sheer magnificence and the spirit is overwhelming.
This third album, recorded over two years since Verve split up on July 3, 1995, brings in stiff. Urban Hymns boasts of two anthems Bitter Sweet Symphony, a skyscraping no. 2 hit in the USA and passion-soaked. The Drugs Don't Work, The Rolling People, Come On, Sonnet and Space And Time scale the peaks for their delicately-handled hooks. At 13 tracks over 65 minutes, the album is a heady rich cocktail indeed. It is a rambling, inspiring rock tableau that never breaks the pace.
— Saurabh & Gaurav
The Grrr…eat Music Zone Quiz

1. What's name of the song R.Kelly sings on the Thin Line Between Love And Hate soundtrack?

2. What other two notable rappers make up 213 with Warren G?

3. Which famous singer once sang lead for the then unknown Kinks?

4. What was the first video Kid Rock made off of his album Devil Without A Cause?

5. What was the name of Gavin Rossdale's band before Bush?

6. Which Foreigner song did Natas skate to in the video Wheels of Fire?

7. Foreigner lead singer Lou Gramm also had a hit with a song from his 1987 solo album Ready or Not. What was the name of the hit single?

8. What Buckingham/Nicks song was used on a Fleetwood Mac album?

9. Which Enigma song featured a Mongolian chant?

10. Which famous female singer talks on Eel's answering machine on the track Manchild?

Answers

1. Freak Tonight
2. Nate Dogg and Snoop Dogg
3. Rod Stewart
4. I Am The Bullgod
5. Midnight

6. Brave Captain
7. Midnight Blue
8. Crystal
9. Age Of Loneliness
10. Jill Sobule


Top 10 singles
1. It's My Life Bon Jovi

2. Ex-Girlfriend No Doubté

3. It's Gonna Be Me N' Syncé

4. Ek Dana Daler Mehndi è

5. Bent Matchbox Tewntyé

6. Whatever You Need Tina Turner ê

7. No Man's Woman Sinead O' Connorè

8. Breathless Corrsl

9. Sunday Morning Call Oasisê

10.Ten Days Late Third Eye Blindè

Legend: éClimbing up êFallingdown èNon-mover lNew entry
This feature was published on August 5, 2000