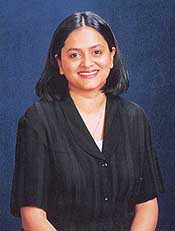 While they were still in college, they started a visual communication company and called it Pugmarks. The company soon became very popular but what really made it grow by leaps and bounds was the coming of the E-mail in 1996. "We both knew something great was happening. We used to try and connect through Delhi but the web sites we saw were drab and full of only text." This prompted them to start Pugmarks Interweb. They tried to bring about a difference by making the input more creative. They were quick to grasp and the combination of latest technology and creativity worked wonders. They now provide web designing, hosting and e-commerce services.
Anuja looks after the production and the studio, while her husband's responsibility is to take care of the marketing and finance. They have clearly defined roles and do not tread on each other's toes. Since their work has forged a special bond between them, they tend to talk a lot about it. She has a staff of 60 young creative people for whom she is both a friend and a guide. She has designed web sites for newspapers, Maruti Udyog, Chida-nand.com etc. Projects in the pipeline are coolru-mours.com and partymo-ments.com.
The young web designer says that she loves her work but now consciously tries to balance her time between her two daughters (four and two years old), her job and her other hobbies. She still likes to do odd jobs herself, except for kitchen work, which is her husband's domain. "By nature, I am a content and happy person. I was the same ten years back when I was in college. Success cannot change me."
Unique celebration
A marriage ceremony created quite in stir in Chandigarh recently. The event became a scene stealer by its own right with people discussing the idea, its implementation and the decor. In fact, many felt that they have never seen such a setting for a wedding ever in this town.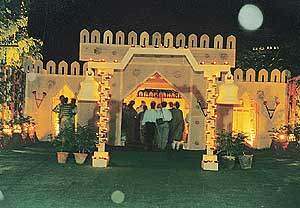 Dr GP Mallik's family had been planning for the event for about a year. The 'ladies sangeet' ( a misnomer actually because now it is a song and dance party for all with cocktails and dinner thrown in) was held at a friend's farm house. The place was turned into a scene from the Thar desert. Sand dunes had been recreated and two huge blowers blew up quite a sandstorm. To complete the picture, a camel roamed around on the sand dunes.
A dress code was also prescribed. Chunri-bandhani attire for women and kurta-churidar for men. Most guests complied and wore the dress prescribed by the good doctor. Though there were no professional singers, the event was planned and coordinated to the T. Songs had been carefully chosen for the occasion and the guests could join in the singing and dancing. The decoration had a predominance of bandhani and chunri cloth. Even the entrance was designed with this material.
For the main wedding, the theme of the decor was a Rajasthani fort. The entrance had a traditional dwar lit with diyas. The colour of the fortress walls was deep pink mud. At the entrance, there was a dome made of thermocol. The furniture too was synchronised with the colour of the walls. Minute details were looked into and the fortress' walls were adorned with swords and bayonets. For the bidai, there was a proper doli covered with bandhani dupattas and flowers.
The creator of this installation art was a Chandigarh artist -- Sathi.
'Sher' Khan
There is a smouldering intensity in the eyes of his Khan. A mere look can freeze men or make women go weak at the knees. Salman Khan's kid brother is his very anti-thesis. No choclate stuff for him.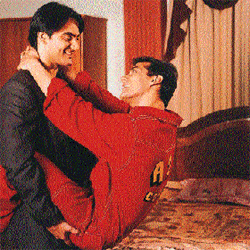 Arbaaz Khan started his career in 1990 with Police Public and has to his credit films like Pyar Kiya to Darna Kya and Daraar. The second son of Salim, the writer, and younger brother of Salman Khan, he is waiting to be catapulted into the big league. He has some great projects in the offing, like Maa Tujhe Salam and Soch. He is also making an effort to improve his skills in every department of film making. One of his directors, Sushen, is very happy with Arbaaz's commitment and punctuality. "He is involved in the whole project and not merely in his role", says the director.
Since Arbaaz has a positive attitude, there is very little that can faze him. He is a supportive husband and is very close to his brothers. It is because of this unshakable family bond that they accepted their father's second wife Helen with equanimity and now love her like they love their biological mother. Arbaaz is a sensitive individual. He does not freely voice his opinions. About himself he is quite candid. "I will do whatever roles come my way. I am not fixated on any one image about myself as an actor. My job is to act and act as well as I can whether it is as a hero or as a villain."
Arbaaz does not mind his wife working either as an actress or as a VJ. "Malaika is a very sweet person. And if she can carry off multiple roles, well good for her." Bravo, Arbaaz!
— Belu Maheshwari