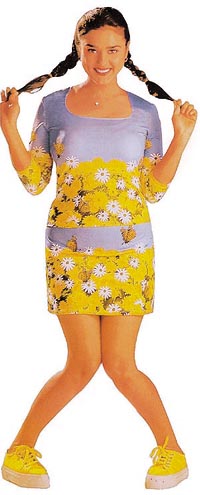 Says Bangalore-based Gupta, who owns a boutique catering exclusively for expectant mothers: "You cannot always wear a kaftan and sit at home. One wants to look nice during pregnancy too and move out of the house."
For these designers, modern textiles have made their job so much easier. Fluid fabrics that fall smoothly over the bosom and hips are ideal for being tailored into sleek, elegant lines with no frills, furbelows, fuss or embellishments.
Crepe, chiffon, silk, polyester, nylon and acrylic are long-lasting and glamorous options for extra-large sizes. Handloom cottons have become passe and in fact, some designers strongly discourage them, as they tend to add body to a look.
"The trick lies in concealing flaws," advises Namrata G, who offers a wide range in formal and casual wear for the big-bodied. "In place of flairs and gathers, you should restrict yourself to straight cuts and simple, uncluttered lines."
When she designs for someone who is also short, "the silhouettes need to be narrowed down and streamlined to give the feel of length". She is best known for her printed crepe kurtas, the palette being toned down from flamboyant hues to peach and beige.
"It is a fallacy that all vertical lines add height and subtract bulk," she adds. "Stripes that are too narrow will disappear, while those too wide can make you look like a bistro awning. The same applies to prints as well. Too small is as much of a no-no as a too large one."
Adapting from experience, Fernandez specialises in making extra-long blouses in her trademark blue that fall over the trousers: "I put on a lot of weight after my children were born and I found it difficult to get western clothes my size off the racks."
For this designer, big floral prints and horizontal lines are a taboo. Even when she would design a pair of palazzos, checked skirt, camisole top or a printed slip, she would work through vertical stripes and muted tones that follow the rules of being sleek and simple.
"Moderation is the key where length is concerned," says Barnali Dey, a Calcutta-based designer. "Mid-calf is perfect to emphasise height and distract from a too-large hipline. Of course, if you have great legs, show them off!"
Dey is mainly into western dresses as she feel Indian outfits — particularly salwar-kameezes and churidar-kurtas — reveal more than they conceal and worse, create a "tent-like" look. A floral printed slip dress or palazzos topped with a short printed crepe blouse (for formal wear) are ideal for big women.
she has also designed a slim suit in red Italian crepe edged with orange and white with a built-in shirt that has become very popular. But the real talk of the town is a range of cotton loungers with Chinese collars and an open neck in pretty floral prints.
"One has to keep very strict guidelines while designing for a big-build body type, since the options are limited," says Mysore-based designer Shiraz Irani. "You have to draw attention away from the problem areas like the waist and hips."
Like most other designers catering to generously endowed women, Irani undertakes custom fits. "Many of my customers who are big-built, have lovely faces and great personalities," she points out. "I tell them to go for an uncluttered look, with perhaps a large pair of earrings to match their outfit." (MF)