Sidharath, a chartered accountant, works as a Head of Finance with Petronet India Limited and Khusroo works with the Indian Railways. Both of them never took outside funding for the site. Khusroo spent more than Rs 1 lakh, all for a social cause. The site, BloodGivers.com, has a daily page view rate of 2,500 at present, while indianblooddonors.com gets about 100 hits per day.
A regular donor himself, Sidharath donates blood against requests from friends and relatives. " I know at times how difficult it is to get the donors when one needs them. World over millions die every year due to shortage of blood. People have a number of apprehensions about blood donation. We have the problem of professional donors but this is to be discouraged and the population of voluntary donors needs to grow. The problem is more acute in India and developing countries," he says.
The site, BloodGivers.com, has donors' indexed city wise and communication of a person searching for donors is sent only to those within the seekers' city. At the same time, the site protects the anonymity of donors so that they are not swamped by requests for donation. The site answers frequently asked questions (FAQs) about blood donation and put the initiative in the hands of the donors. A list of blood banks is to be added soon on the site that would facilitate using the power of the Internet for bringing together seekers and donors, which is impossible otherwise.
Sidharath does not have any plans to sell the site, as he wants it to continue free. "Though I would not mind if some compassionate soul takes a minority stake," he says.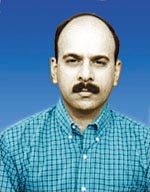 Khusroo says that he felt satisfied when a doctor took him to a hospital's ICU and told him one of the patients, who required 8 units of blood, was saved because all blood donors had turned up through his site. "The patient's relatives almost fell at my feet and I was moved," he adds.
He plans to incorporate two new sections on his site but does not want to divulge further details on these. "All I can say is that these sections will be an alternative if a persons cannot find a donor at our site. Another unique section will be "contact a coordinator". We will be putting name, address and telephone numbers of social welfare clubs like Rotary, Lions, and Jaycees. This section will be for those who do not find donors of their blood groups in their cities," he remarks.
Since these are Internet-based sites, the donors need to have an e-mail address, either their own or someone else's, from where they can be contacted. The seeker only needs to have a phone number.
Besides those in emergency wards, the beneficiaries could range from thalassemia patients to those who come to a big city for treatment but do not know anyone there.
Can professional donors not misuse the site? "We can delete the names of professional donors once we come to know about it. One can't really stop them to register on the site. However, what can happen is that with the donor database growing large, a seeker may not use donation from a professional donor since he/she would have voluntary donors available," Sidharath says.
Khusroo, however, is more forthcoming. "We have though about the menace of professional donors and will be taking certain steps, like putting a note in the search section telling that the name of such persons who ask for money should be notified so that their names could be deleted."
Have angels made "cyberia" their new abode? With new technology changing everyone's life, no one knows. As Khusroo sums up philosophically, "Blood is for circulation — donate it."