THE TRIBUNE MAGAZINES
On Mondays


On Sundays

On Saturdays

CBI arrests 5 in Harpreet case
NEW DELHI, Oct 5 — In a significant development, the Central Bureau of Investigation has arrested five persons, including two women, in connection with the "mysterious" death of Harpreet Kaur, daughter of the Shiromani Gurdwara Prabandhak Committee president Bibi Jagir Kaur.
Romeo Force kills 4 top militants
10 Pak soldiers killed in clash
JAMMU, Oct 5 — The Army's Romeo Force eliminated four top militants, including the chief of Hizbul Mujahideen Pir Panjal Regiment at Surankot yesterday.
IN PASSING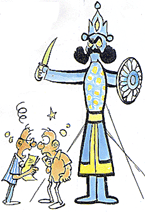 Veerappan's latest demand ... Ravana and brothers should look like Karunanidhi and SM Krishna!

by Sandeep Joshi
Hizbul ultra held in Delhi
NEW DELHI, Oct 5 — The Delhi Police claims to have averted a blast during the ongoing Ram Lila and Dasehra celebrations in the Capital with the arrest of a Pakistan army trained militant of the Hizbul Mujahideen and seized 5.4 kg of RDX from his possession.
TDP, SAD too seek rollback
CALCUTTA, Oct 5 — The Trinamool Congress today remained adamant not to withdraw resignations of its two ministers from the NDA government until a rollback of the petro price hike despite an appeal by the Prime Minister, Mr Atal Behari Vajpayee.
Dangi proclaimed offender
CHANDIGARH, Oct 5 — The Special Judge of Ambala has declared Mr Anand Singh Dangi, a former Revenue and Rehabilitation Minister of Haryana, a proclaimed offender in connection with a case registered by the State Vigilance Bureau under Sections 218, 406, 409, 418, 420, 467, 468, 471 and 120-B of the IPC and Section 13 (I) of the Prevention of Corruption Act on July 8.
6 grooms lose lakhs, US wives
BATHINDA, Oct 5 — Yurinder Singh's (not his real name) joy knew no bounds when he tied the nuptial knot with Vicky, a citizen of the USA in January, 1997, with the aim to go abroad for better fortune.
EARLIER STORIES
(links open in a new window)
Vajpayee rules out immediate rollback
October 5, 2000
India, Russia forge strategic tieup
October 4, 2000
Mamata plans front sans BJP
October 3, 2000
Naik rules out cut in petro prices
October 2, 2000
PM expands ministry
October 1, 2000
Rao, Buta convicted in JMM bribery case
September 30, 2000
Putin's Pak visit raises eyebrows
September 29, 2000
Inter-state ban on sale of petro products goes
September 28, 2000
19 militants killed in encounters
September 27, 2000
17 rockets fired in Rajouri
September 26, 2000
States asked to share oil price burden
September 25, 2000
States asked to share oil price burden
September 25, 2000