Julio Iglesias - Noch Dde Cuatro Lunas (Sony Music)«««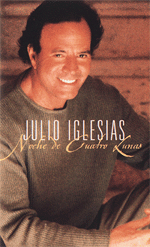 Julio Iglesias has enjoyed an extraordinary recording career, with an unmatched list of achievements. With over 250 million albums sold worldwide, Julio is back with a much anticipated 77th album. Titled Noche de Cuatro Lunas, the album is one of the most significant discs in his music career. To make this piece even more spectacular, Julio has teamed up with some of the prominent music personalities, which include Eestefano, singer/songwriter Rubber Blades, composer Robi Rosa of Ricky Martin's Maria, La Copa De La Vida and Livin' La Vida Loca fame and Alejandro Sanz who released the smash hit Carazon Partio in 1997. The album offers some appetising grooves from Spain, Hispanic Carribean and the USA. Apart from collaborating with young producers, Julio has composed songs for the first time in 20 years. The entire song list gives a pleasing contemporary feel. Julio's interest in creating a broader musical base has paid off here, with most of the tracks leaning towards Spain and Carribean, hitting a good-natured carnival spirit. Elsewhere, Julio offers romance (No Es Amor Ni Es Amar, Dos Carazones, Dos Historians and Noche De Cuatro Lunas) and treats the format to a series of exuberant, acoustic guitar-led excursions. The notable tracks include Gozar La Vida, Te Voy A Contar Mi Vida, Seremos Libres and Mal Acostumbrado. Performed with fire and panache, Julio offers welcome proof of his music's continuing good health.
DJ Empire - A Tribute To Giorgio Moroder
(BMG Crescendo)««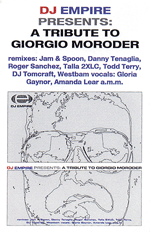 One of the principal architects of the dance sound, composer and producer Giorgio Moroder recorded his debut single Looky, Looky in 1969; his first LP Son Of My Father was released in early 1972. He was introduced to fellow aspiring musicians Pete Bellotte and Donna Summer, with whom he formed a production partnership and instantly shot to fame. With this partnership, Giorgio released hit albums about once every six months. In 1978, Morodex made his foray into film music, winning an Academy Award for his score to Alan Parker's Mignight Express. Award after Award, he won his second Oscar in 1983 for his hit Flashdance (What A Feeling) performed by Irene Cara. Later his contribution to the soundtrack of 1986 mega-buster Top Gun proved that Moroder was a music genius.
In the years to follow, Moroder gave out more hits, more film soundtracks and more remixes. This compilation is just a fraction of that. Nevertheless it covers some of the biggest hits. The album kick-starts with Jam and Spoon's The Chase, that builds-up the tempo. It is followed by Talla 2XLC's E=MC2. Other club fillers include Flashdance (What A Feeling) featuring Sarah Abdallah, Eric D. Clark's From Here To Eternity, Take My Breath Away featuring Diana DeWitt, Never Ending Story featuring Paul Engemann, DJ Shahrokh's Hot Stuff, Roger Sanchez's Evolution and Last Night featuring Gloria Gaynor. Re-live the disco era — this one's from the Guru.
Album of the month
Duran Duran - Pop Trash (Sony Music)
All these years you are considered Pop icons and one fine morning you call it all Trash?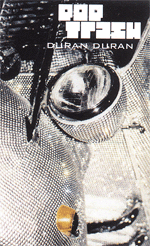 Pop Trash— their twelfth album looks beyond the glossy-glam world. As the band members confess, this is the most honest work they have done so far. The starter Someone Else Not Me is accompanied by acoustic guitar chords, talking about freedom of letting someone fade out of your life. The track gives a feel of a recycled version of Ordinary World, their 1993 super hit. Lava Lamp, Pop Trash Movie and Lady Xanax are guitar-fuelled sonic busters, while Hallucinating Elvis's spiky glam-rocking could easily be mistaken for a product from 20-something rockers. Last Day On Earth recalls the Tin Machine's stilted hooks. Mars Meets Venus and Playing With Uranium could very well fit into an alternative dance compilation.
Utilising their savvy sense of classic songs like Rio, Hungry Like The Wolf, Reflex, Wild Boys etc., Duran Duran successfully step onto another music level. Despite many splits, the band has managed to shine bright even with frequently changing trends and this is why, while other contemporaries faded away, Duran Duran is counted amongst the strongest pop bands even today. Here's to our good 'ol pop folks!
— Saurabh & Gaurav
The Grrr…eat Music Zone Quiz
1. Name Marvin Gaye's only double studio album?
2. Art Garfunkel recorded under two other names. What were they?
3. Which band sung the 1999 hit track Steal My Sunshine?
4. Before joining Lemonheads, lead singer Evan Dando was a part of which band?
5. Which famous rapper starred in the movie Deep Blue Sea?
6. Which country artist sang My Kind Of Woman/ My Kind Of Man with Vince Gill?
7. For which famous musical did Ian Gillian sing on the soundtrack?
8. In which Canadian TV show did Alanis Morisette star in as a child?
9. What was band Madness earlier called?
10.Kula Shaker got its name from which song of the band?
Answers
1. Here, My Dear

2. Artie Garr and Tom Graph

3. Len

4. Laughing Away To The Cleaners

5. LL Cool J
6. Patty Loveless

7. Jesus Christ Superstar

8. You Can't Do That On Television

9. The North London Invaders

10. The Cowboy Stars

Top 10 singles
1. Lucky Britney Spears

2. Doesn't Really Matter Janet Jackson ê

3. Breathless Corrs é

4. Rock DJ Robbie Williams çè

5. Music Madonna é

6. I Think I'm In Love With You Jessica Simpson ê

7. Gumsum Shaan ê

8. I Told You That Whitney Houston/George Michaell

9. Life Is A Rollercoaster Ronan Keating çè

10. Will I Ever Side Al

Legend: éClimbing up êFalling down çè- Non-mover l New entry